Keys to High Flexibility

Ultra-Flex Wire
Most industrial wire is made up of multiple wire strands, called 'base strands', rather than being made of a solid piece of metal. Multiple strands make the wire more flexible, allowing it to bend and flex more easily than solid metal.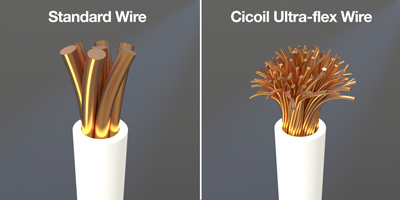 The finer the base strand, the more flexible the wire. As shown above, standard 24 AWG wire has 7 base strands, 'flexible' wire has 19 base strands, while Cicoil High-Flex wire has 66 base strands. All Cicoil wire has base stranding of 40 AWG minimum, versus 36 AWG and larger in other 'flexible' wires. Cicoil wire conductors have two to three times more base strands than competitive 'flexible' wire. This makes Cicoil wire extremely flexible, as wires with smaller base stranding will have a much smaller bend radius than wires with larger stranding. In addition, finer stranded wire has significantly longer life in flexing applications, as bending stresses are distributed across many more wires strands, thereby dissipating the strain on the overall wire conductor.
Cicoil Flexx-Sil™ flat cables only use High-Flex, finely stranded wires, which are the most flexible wires available. The combination of our high-flex wire and the ultimate flexibility of our patented Flexx-Sil insulation make Cicoil flat cables the most flexible flat cable you can buy.
Supple Flexx-Sil™ Jacketing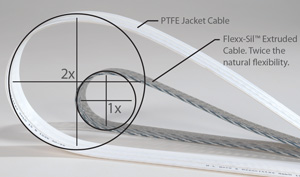 Specifying flat cables and flat cable assemblies in applications characterized by repeated motion should allow for four key qualities: allowable bend radius, life cycles under constant flexing, package constraints, and environmental factors.
The bend radius of flat cable depends on the gauge of the wire and type of conductors used in the cable. In general, the finer the gauge of the conductors, the smaller the allowable bend radius. But, the cable jacketing material also greatly impacts the cable flexibility. The picture at the right shows two flat cables at rest. The cable using a PTFE jacket has a bend radius more than twice as large as Cicoil cable that features our proprietary Flexx-Sil™ jacketing. Tighter bends and longer life, due to better inherent flexibility make Cicoil Flexx-Sil™ flat cables the absolute best choice for any motion control application.
Benefits of Flexibility
Cicoil flat cable's inherent flexibility allows for smaller motors that cut energy consumption, occupy less space, and weigh less. Most industrial automation equipment today operates 24/7, often with robotic elements that execute rigorous motions repeatedly, sometimes thousands of times a day. These applications stress not only the moving parts of the machine, but also the electrical cabling. Engineers spend considerable time sizing electromechanical movers, but often give little thought to whether the cabling is sized properly. The frequent result is that the cabling won't handle the rigors of the application, resulting in costly premature failures. In fact, industry research has shown that wiring and cabling causes over 50% of the quality and reliability issues in automation equipment. For these reasons, designers should plug in a safety factor to ensure cabling will meet flex-cycle needs.
Cicoil engineers are ready to help you match the ideal cable to your application. Speak to an Engineer: 661-295-1295 Option 4