Cable Assemblies – "Specials Are Standard at Cicoil"
Cicoil's experienced engineering team works with customers to design cable assemblies that meet the specific needs of the toughest applications. Using advanced Solid Modeling and Cable Design Software, our engineers are able to meet the most difficult requirements of the most challenging, mission-critical applications. Custom-shaped cables, with complex molding, tubing, or vacuum requirements, utilizing a wide variety of connectors, are standard at Cicoil.
Call Cicoil to speak to an engineer about your application.
---
Any Connector
'D' Sub, Micro 'D', and Nano connectors for small gauge wire
Circular connectors, Mil-Spec and Industrial
Lightweight Fiberglass 'Header' Connectors machined in-house
Assemblies available with virtually any connector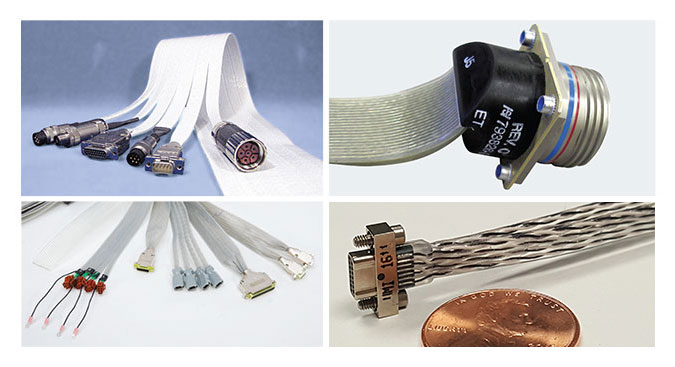 Any Connector
'D' Sub, Micro 'D', and Nano connectors for small gauge wire
Circular connectors, Mil-Spec and Industrial
Lightweight Fiberglass 'Header' Connectors machined in-house
Assemblies available with virtually any connector
---
Custom Shapes - Formed Cables
Custom shaped cable assemblies fit precisely into compact spaces
Complex formed shapes possible, using our 3D modeling software
Formed cables retain all performance characteristics, including flexibility


Custom Shapes - Formed Cables
Fit precisely into compact spaces
Complex formed shapes possible, using our 3D modeling software
Formed cables retain all performance characteristics, including flexibility
---
Space/Vacuum
Space/Vacuum Cables meet NASA and ASTM E-595 Low Outgassing Requirements of <1% TML (Total Material Loss), and <0.1% CVCM (Collected Volatile Condensable Material)
Cables are 100% tested and certified to be low outgassing
Cables meet Class 1 Clean Room requirements, with zero particulates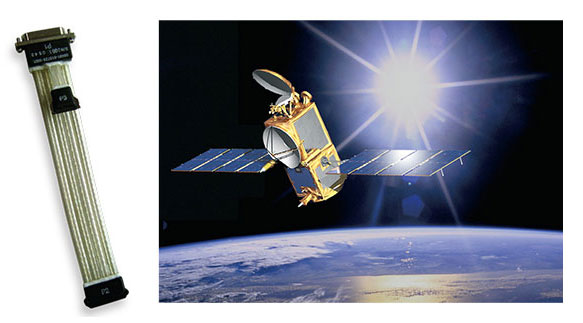 Space/Vacuum
Space/Vacuum Cables meet NASA and ASTM E-595 Low Outgassing Requirements of <1% TML (Total Material Loss), and <0.1% CVCM (Collected Volatile Condensable Material)
Cables are 100% tested and certified to be low outgassing
Cables meet Class 1 Clean Room requirements, with zero particulates
---
Tubing
Tubing can be incorporated into any Cicoil Flat Cable
Teflon®, PVC, Polyurethane or Tygon® Tubing Options available, in standard sizes up to .375″ diameter
Flat 'Tubing Only' cables available, with a mix of virtually any tubing types and sizes
Tubing Assemblies with Tri-Clamp Fittings, Barbed connectors or Luer Adapters available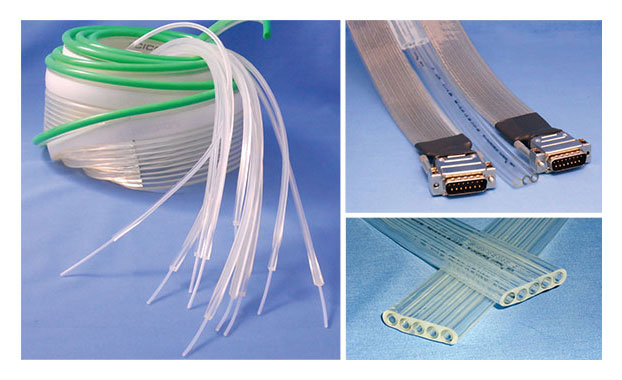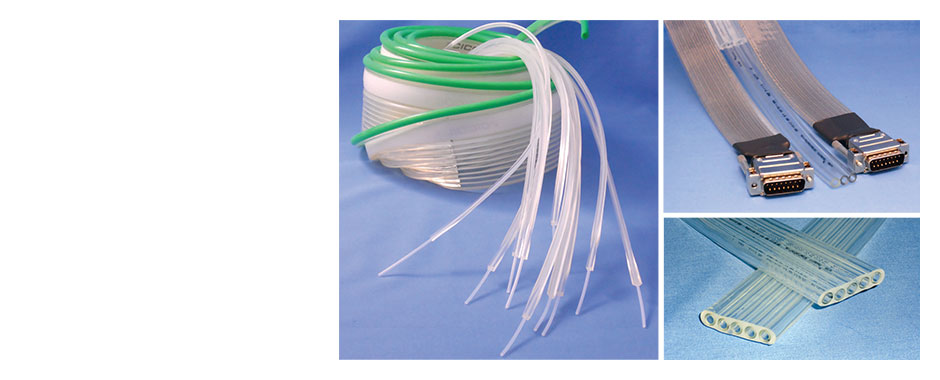 Tubing
Tubing can be incorporated into any Cicoil Flat Cable
Teflon®, PVC, Polyurethane or Tygon® Tubing Options available, in standard sizes up to .375″ diameter
Flat 'Tubing Only' cables available, with a mix of virtually any tubing types and sizes
Tubing Assemblies with Tri-Clamp Fittings, Barbed connectors or Luer Adapters available
---
Molding
Molded connector backshells from hard or flexible Mil-Spec materials
Complex molding capabilities, including PCBs, metal plates, and insulated junctions
All tooling designed and manufactured in-house, for fast prototyping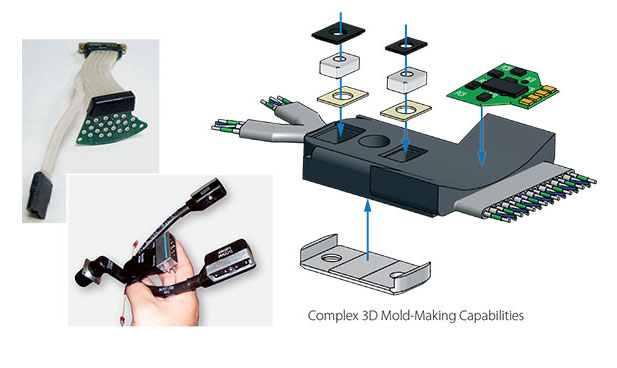 Molding
Molded connector backshells from hard or flexible Mil-Spec materials
Complex molding capabilities, including PCBs, metal plates, and insulated junctions
All tooling designed and manufactured in-house, for fast prototyping