Unlimited Flat Cable Design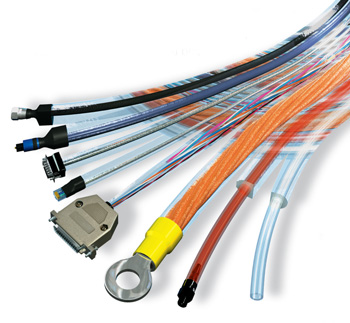 Select from our Standard Flat Cable Catalog or design exactly the unique cable needed, in the smallest possible package. Save space and reduce cost. Flexx-Sil™ flexible cable jacket and our finely stranded ultra-flex wire conductors combine to make Cicoil flat cables the most flexible on the market. Tested for tens of millions of cycles, Cicoil flexible flat cables deliver reliable performance and long life.
For applications involving repetitive motion, shock and vibration, harsh environments, and temperature extremes there is simply no better option than Cicoil flat cables.
Specify Cicoil Flat Cable when...
PVC will melt, break, or burn
PTFE is too stiff for repetitive motion
Operation is in temperature and environmental extremes
Cables must withstand medical or industrial chemicals
Repetitive motion, vibration, or shock will damage other cables
Cables must be soft to the touch
Application must meet NASA or ESA outgassing requirements
Any Wire or Cable Element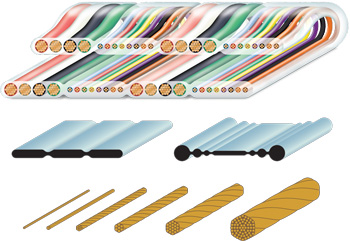 Our flat cables are available with wire gauges from 4 to 44 AWG, in virtually any configuration required. Cicoil's patented extrusion process allows multiple wires to be placed in a flat cable, precisely controlling the wire spacing, the insulation thickness, and the overall cable shape.
Select from an unlimited variety of conductors, such as coaxial, video, and fiber optics. Design your own cable with our easy-to-use Configurator.

Bare Wire, Insulated and Shielded Conductors, Twisted Pair, Coax, Fiber Optics, Tubing
Patented Extrusion Process

Cicoil invented the highest performance, most versatile flat cables on the planet, and we are extremely proud to have received numerous US and worldwide patents for our unique technologies and products. Cicoil's ongoing innovations enable us to design and manufacture high performance cables that exceed the demands of our customers' toughest applications.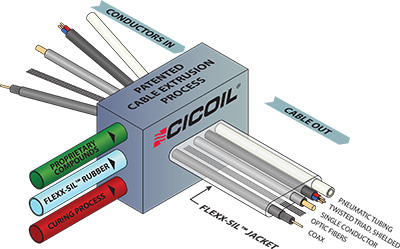 The exclusive, patented Cicoil extrusion process produces flat cables in continuous lengths. Cicoil's process combines multiple elements into a single flat cable, including:
Single Conductor
Shielded Conductors
Tubing
Cat 5e
Camera Link™
Fiber Optics
Coax and Twinax
This capability can save you space and reduce much of complexity of your current cabling requirements.