Rugged Cable Solutions for Electric Powered Aircraft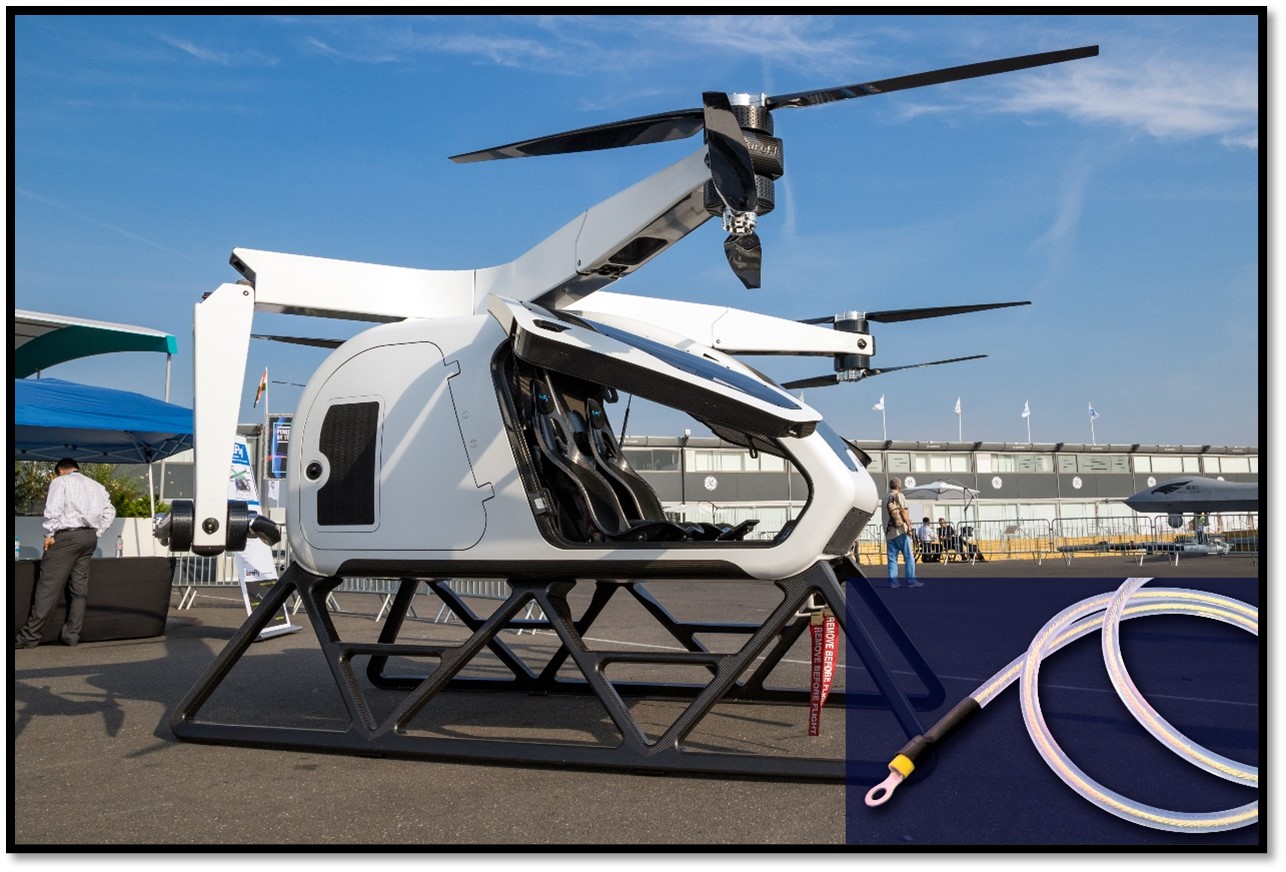 Valencia, CA; May 26, 2021: Over the past half century, Cicoil has supplied tens of thousands of compact cable assemblies for both commercial and military aircraft, and today offer reliable solutions for electric powered vertical-takeoff-and-landing aircraft (eVTOL, Air Taxis, UAV's) as well. Cicoil's lightweight Flexx-Sil™ jacketed power cables offer exceptional all-weather flexibility, mechanical durability and are ideal when ease of routing is required. This combination of features makes Cicoil's power cables the optimal alternative to stiff wire, bus bar and bulky power conductors in powering propellers, electric propulsion motors, turbofan engines, and wing flaps.
Manufactured with high-strength, oxygen-free tinned copper wire, Cicoil's shock absorbing design is naturally more flexible than other types of power cables, and is immune to the rigors of turbulent flight, compressive force, vibration, salt spray, fungus, deicing fluid, corrosion, sunlight, acid rain, ice, UV light, humidity, ozone, steam, grease, kinking, cracking and most chemicals. The proprietary crystal-clear encapsulation needs no external "armor" or conduit for protection, is "self-healing" from small punctures and cable jacket damage can easily be repaired in the field.
Rated for voltages up to 42,000 Volts DC, Cicoil's Power Cables (4/0 AWG to 32 AWG) are available in continuous lengths, cut to order, or as assemblies, complete with lugs or connectors of your choice, 100% tested and inspected. Cicoil also offers anti-friction coatings, custom colors, lower/higher voltage, and lighter weight designs by request.
The 100% contaminate-free cable is Class 1 Clean Room Rated and is cured continuously, with no debris or material contamination in an automated, climate-controlled environment. The halogen-free, Flexx-Sil™ rubber jacket passes UL/CSA VW-1, FT 1 & FT 2, UL 94V-0 flammability testing and FAA burn testing. In addition, the cable performs exceptionally well when exposed to severe heat and frigid temperatures (-65°C to +260°C).
Cicoil's quality system is certified to ISO 9001: 2015, including the Aerospace AS9100D standard, cable assembly technicians are certified to IPC J-STD-001, J-STD-001ES and IPC-620 Space Addendum, for cable soldering and crimping. 100% of Cicoil cables are electrically inspected for all point-to-point and electrical values, ensuring that each and every cable assembly meets 100% of the quality standards required by the most critical application.
For more information, download a copy of our eVTOL Aircraft flyer: https://www.cicoil.com/applications/evtol-aircraft
Cicoil has been a leader in designing and manufacturing high performance cable assemblies for over sixty years. The company's Patented Flexx-Sil™ Flat Cable Technology provides high flexibility, extremely long life, and they can withstand temperature extremes from -104 degrees to +260 degrees Celsius. Cicoil's flat cables are used in thousands of demanding applications; including aircraft fuel control cells, semiconductor automation, and the International Space Station. Cicoil designs and manufactures its Flexx-Sil™ jacketed cables and cable assemblies in an automated facility in Valencia, California. Cicoil's quality assurance system is certified to the ISO 9001 (AS9100) standard. Visit www.cicoil.com for more information, or call 661-295-1295 to speak to an application engineer.