Flat Motion Cable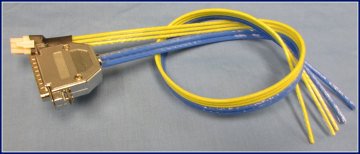 Cicoil, the global leader in highly flexible flat cable technology, is pleased to announce the introduction of its NEW EZ-Flexx™ Motion Series PLUS Cable for high performance motion control applications. The hybrid design incorporates both power and signal wires, all in a single flat cable package, and provides exceptional EMI/RFI suppression when continuously flexed or routed through tight spaces.
Cicoil's One-of-a-Kind extrusion process allows 6 Power Conductors and 20 Signal Wires to be placed in a condensed, flat profile, precisely controlling the spacing of each component and overall cable shape. As compared to other Motion Cables, the EZ-Flexx™ concept allows for easy stripping and a significant decrease in cable prep time. The "Crystal Clear" design is also compatible with standard hand held manual and automated stripping and crimping equipment.
The EZ-Flexx™ Motion Series Plus cable is available in a single axis design that can be placed side-by-side for maximum flexibility. In addition, the EZ-Flexx™ profile allows individual cables to be grouped into space saving stacked positions for 1, 2 or 3 axes of Servo Motion.
Through the use of Cicoil's On-line Cable Configurator, multiple EZ-Flexx™ Motion Series Plus cables can be incorporated into one single profile and inner components can also be rearranged for more of a symmetric cable layout.
Standard "off-the-shelf" cables are available for immediate delivery and cable assemblies, complete with connectors are offered in 3 foot, 6 foot and 12 foot lengths. In addition, Cicoil offers low-friction coatings, custom shape and torsion designs by request.
The highly durable outer Flexx-Sil™ rubber jacket is also self-healing from small punctures and will not wear, crack or deform during a lifetime of more than 10 million flexing cycles or long term exposure to vibration, water, steam, shock, sunlight, temperature extremes (-65°C to +165°C), flames, radiation, operational stress, humidity, ozone, UV light and many chemicals.
Cicoil's EZ-Flexx™ Motion Series Plus Cables are UL Recognized, CE Conforming, RoHS & REACH Compliant, Class 1 Clean Room Rated and are manufactured in an automated, climate controlled and debris-free environment.
Cicoil has been a leader in designing and manufacturing high performance cable assemblies for almost sixty years. The company's Patented Flexx-Sil™ Flat Cable Technology provides high flexibility, extremely long life, and they can withstand temperature extremes from -65 degrees to +260 degrees Celsius. Cicoil's flat cables are used in thousands of demanding applications; including aircraft fuel control cells, semiconductor automation, and the Space Shuttle. Cicoil designs and manufactures its Flexx-Sil™ jacketed cables and cable assemblies in an automated facility in Valencia, California. Cicoil's quality assurance system is certified to the ISO 9001 (AS9100) standard. Visit www.cicoil.com for more information, or call 661-295-1295 to speak to an application engineer.