Flat Flexx-Sil™ Tubing Cables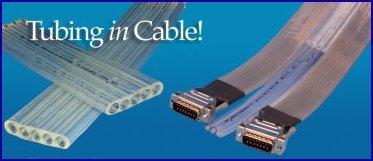 Cicoil, the leader in flexible flat cable technology now offers Highly Durable Flexx-Sil™ Tubing Cables. Combining multiple tubing lines in an easy to use flat configuration is an excellent alternative to loose, bundled, tangled and unprotected tubing assemblies, while also performing as a containment safeguard against possible hazardous leaks.
The new Flexx-Sil™ Tubing Cables are suitable for pneumatics or fluids, and even pod tubes for housing individual wires or fiber optics, making it an ideal solution for medical diagnostic, pharmaceutical processing, biotech, wafer handling, dental, marine, anesthesia delivery, oxygen therapy, waste water inspection, painting robots and automated pick-and-place equipment. Cicoil's Flexx-Sil™ Tubing Cables can incorporate individual or multiple PTFE, PFA, Polyurethane, Tygon® and PVC tubes, and each can be placed anywhere within the flat profile.
Through the use of a patented process of encasing individual components, each Flexx-Sil™ Tubing Cable can also incorporate power wires, shielded signal pairs, Ethernet, Thermocouple, USB, Coax, FireWire, and Cicoil's StripMount™ fastening strip, all combined in a single flat profile precisely controlling the spacing of each component, insulation thickness and overall cable shape. . The unique crystal-clear encasement also enables easy visual inspection of the inner tubing components
The tear resistant Flexx-Sil™ Jacket is Halogen-Free, Non-Corrosive, Low Outgassing and Flame Retardant (UL 94V-0) and is also self-healing from small punctures. In addition, the flexible cable jacket maintains mechanical strength and will not wear, crack or deform due to long term exposure to UV light, autoclave, steam, radiation, chlorine water, alcohol, hydrogen peroxide, saline, excessive heat (+260°C), vibration, mechanical stress, corrosion, humidity, fungus, cold temperatures (-65°C) and many chemicals.
Cicoil's Flexx-Sil™ Tubing Cable designs, including custom assemblies with connectors and fittings of your choice are available with minimum lead times. Cicoil also offers anti-friction coating options, unique shapes, and custom slit break-out cable designs by request.
Cicoil's Flexx-Sil™ Jacketed Tubing Cables are UL & CSA Recognized, CE Conforming, RoHS & REACH Compliant, Class 1 Clean Room Rated and are manufactured in an automated, climate controlled environment.
Cicoil has been a leader in designing and manufacturing high performance cable assemblies for over fifty years. The company's Patented Flexx-Sil™ Flat Cable Technology provides high flexibility, extremely long life, and they can withstand temperature extremes from -65 degrees to +260 degrees Celsius. Cicoil's flat cables are used in thousands of demanding applications; including aircraft fuel control cells, semiconductor automation, and the Space Shuttle. Cicoil designs and manufactures its Flexx-Sil™ jacketed cables and cable assemblies in an automated facility in Valencia, California. Cicoil's quality assurance system is certified to the ISO 9001 (AS9100) standard. Visit www.cicoil.com for more information, or call 661-295-1295 to speak to an application engineer.