Flat Flexible Cable Configurator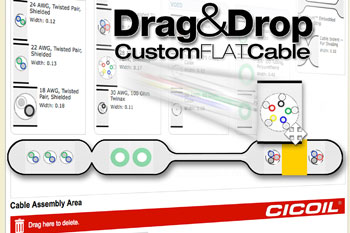 Cicoil, the leading manufacturer of High Performance Flexx-Sil™ Flat Cables and Assemblies, is pleased to announce its' Newly Expanded Online "Drag & Drop" Flat Cable Configurator. An entire section of the website is now dedicated to this New Web Application, which allows a user to easily design a custom cable in just minutes.
With a few simple clicks of a mouse, Configurator Cables, can be constructed of many elements (over 20 new additions), including power conductors, shielded signal pairs, video & coax wires, tubing for liquid and air, and design elements like Cicoil's patented StripMount™ fastening strip. To make the process even quicker, Cicoil has added Specialty Signal Modules (Cat 5e, Cat 6, Camera Link, FireWire, USB 2.0, USB 3.0) to the Configurator. Any of these elements can be combined in any position within the flat cable profile, which means that Millions of Flat Cable designs are available for immediate production and delivery.
As soon as the flat cable design is constructed, users receive a price quotation, custom part number and an engineering drawing delivered to their e-mail inbox within seconds. Once the cable is ordered, Cicoil guarantees a 1-2 week delivery on any cable designed using the Cable Configurator.
In addition to Configurator designs, Cicoil offers Standard Off-the-Shelf Motion Control, Video, Data, Power, Thermocouple and IDC Ribbon Cables and Assemblies. All cables are encapsulated with Cicoil's exclusive, crystal-clear Flexx-Sil™ jacketing compound, which clearly shows the purity and cleanliness of the material, as well as the precise placement of each individual cable component.
All of Cicoil's Cable Configurator Cables are UL & CSA Recognized, CE Conforming, RoHS 2 & REACH Compliant, Class 1 Clean Room Rated and are cured continuously, with no debris or material contamination in an automated, climate controlled environment.
Cicoil has been a leader in designing and manufacturing high performance cable assemblies for over fifty years. The company's Patented Flexx-Sil™ Flat Cable Technology provides high flexibility, extremely long life, and they can withstand temperature extremes from -65 degrees to +260 degrees Celsius. Cicoil's flat cables are used in thousands of demanding applications; including aircraft fuel control cells, semiconductor automation, and the Space Shuttle. Cicoil designs and manufactures its Flexx-Sil™ jacketed cables and cable assemblies in an automated facility in Valencia, California. Cicoil's quality assurance system is certified to the ISO 9001 (AS9100) standard. Visit www.cicoil.com for more information, or call 661-295-1295 to speak to an application engineer.