Flat Flexible Cable Assemblies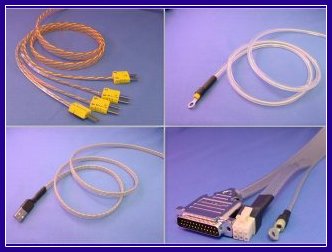 Cicoil, the global leader in high performance Flat Cables, is pleased to announce the introduction of its Standard Flat Cable Assemblies, which are designed to provide reliable performance, long service life and quick delivery, plug & play solutions. Joining a broad line of already in-stock highly flexible flat cables, the fully terminated "Off the Shelf" assemblies are available in 3 foot, 6 foot and 12 foot lengths.
Made in the USA, the cable assemblies are organized in three groups for easy application selection: Motion Control, Data & Video and Unshielded, including IDC Ribbon, Thermocouple, Festoon and High Voltage configurations.
All of the cables utilized on the assemblies are encapsulated with Cicoil's exclusive, crystal-clear Flexx-Sil™ jacketing compound, which clearly shows the purity and cleanliness of the material, as well as the precise placement of each individual cable component. All of Cicoil's cables have a Durometer of 65 (Shore A) and can be provided in an impact-resistant SuperTuff™ version with a Durometer of 85 (Shore A). For applications that require resistance to friction & abrasion, Cicoil offers its proprietary GlideRite™ and SlideRite™ anti-friction coatings by request.
The compact, flame retardant cable designs are free of halogens and contaminants; and also have very low outgassing characteristics. In addition, the Flexx-Sil™ jacket is self-healing from small punctures and will not wear, crack or deform due to long term exposure to motion, tight routing, vibration, water, ice, steam, sunlight, humidity, ozone, UV light, autoclave, expanded temperatures (-65°C to +165°C) and many chemicals.
When an off-the-shelf assembly will not meet all of your requirements, Cicoil offers custom assemblies built to precise specifications, complete with the connectors of your choice. In addition, Cicoil offers custom flat cables incorporating a variety of elements, including power conductors, shielded signal pairs, video and coax conductors, tubing for air or fluid transfer, and other design elements like Cicoil's patented Strip Mount™ fastening strip, all in a single compact cable design. Since Cicoil manufactures onsite in its Valencia, CA headquarters, lead times are quick regardless of whether it is a custom cable design or a complex cable assembly.
Cicoil's Flexx-Sil™ Jacketed Cables are UL & CSA Recognized, CE Conforming, RoHS 2 & REACH Compliant, Class 1 Clean Room Rated and are cured continuously, with no debris or material contamination in an automated, climate controlled environment.
Cicoil has been a leader in designing and manufacturing high performance cable assemblies for over fifty years. The company's Patented Flexx-Sil™ Flat Cable Technology provides high flexibility, extremely long life, and they can withstand temperature extremes from -65 degrees to +260 degrees Celsius. Cicoil's flat cables are used in thousands of demanding applications; including aircraft fuel control cells, semiconductor automation, and the Space Shuttle. Cicoil designs and manufactures its Flexx-Sil™ jacketed cables and cable assemblies in an automated facility in Valencia, California. Cicoil's quality assurance system is certified to the ISO 9001 (AS9100) standard. Visit www.cicoil.com for more information, or call 661-295-1295 to speak to an application engineer.