Discontinuation of PTFE Flat Cables Creates Scramble for Replacements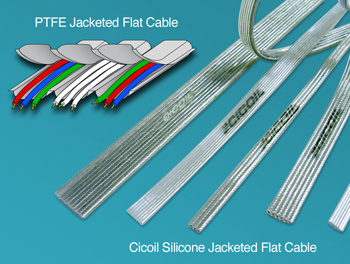 According to customer sources, at least one major manufacturer of PTFE-jacketed flat cable has announced their plans to discontinue that product. As an aid to users affected by the disruption, and who may be sourcing alternatives, Cicoil has prepared a useful comparison of the performance, price and features of their high-flex silicone-jacketed flat cable versus PTFE-jacketed flat cable.
The comparison includes a review of the method of manufacturing for each type of cable, and its impact on the cable's durability, flexibility, environmental capabilities, strength and performance, versatility and cost.
PTFE cable users looking for a more expedient solution to sourcing issues may speak with a Cicoil representative at 661-295-1295.
Cicoil has been a leader in designing and manufacturing high performance cable assemblies for over fifty years. The company's unique silicon coated flat cables provide high flexibility, extremely long life, and they can withstand temperature extremes from -65 degrees to +260 degrees Celsius. Cicoil's cables are used in thousands of demanding applications; including aircraft fuel control cells, semiconductor automation, and the Space Shuttle. Cicoil designs and manufactures its cable and cable assemblies in an automated facility in Valencia, California. Cicoil's quality assurance system is certified to the ISO 9001 (AS9100) standard.