Cicoil Ribbon Cables Deliver High Performance in Extreme Environments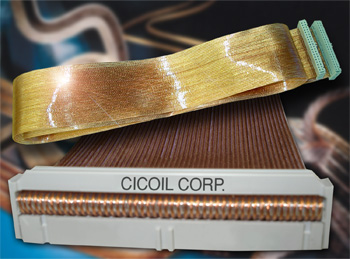 Cicoil, manufacturer of high-flex silicone jacketed cables, announces the availability of high performance ribbon cable for electronics applications requiring better flexibility, and broader temperature and other environmental capabilities than those offered by common PVC jacketed ribbon cables. Where common ribbon cables operate in temperatures of -20°F to +80°F, Cicoil's silicone jacketed ribbon cables perform at -65°F to 260°F. In addition, Cicoil ribbon cable is submersible, and resists acids, alcohol, oil, ozone, steam and radiation; outgassing specifications meet NASA rating for space applications. Where common ribbon cable uses 32-36 AWG base strands in its wire, Cicoil ribbon cable uses 42 AWG base strands to provide extremely supple, ultra-flexibility, with a minimum bend radius of just 0.4 inch.
Ribbon cable is designed to work directly with standard Insulation Displacement Connectors (IDC). For this reason, it is often called IDC cable, and it is used frequently where simple flat cable signal connections are needed. The wire spacing and dimensions are standardized, with the wire 'pitch' (wire spacing) set at .050" for the English version, or 1mm for the metric version. Cicoil's ribbon cables are constructed using Ultra High Flex 28 AWG, tinned copper wire, and feature the exclusive Cicoil silicone extrusion process for a strong, flexible, clear cable. All Cicoil ribbon cables meet the standard ribbon cable dimensions, and are completely compatible with any IDC connector. Cicoil's ribbon cables provide many unique advantages:
Flexibility - Ultra Flex, tinned copper wire conductors, and flexible silicone make Cicoil's ribbon cables highly flexible, with a bend radius as small as 1/4" in flexing applications. Also the cables can be 'folded over' for static applications.
Long Life - Rated for over 10 million cycles in flexing applications
Extreme Environments - Silicone rubber cables operate from -65°C to 260°C, including exposure to water, steam, salt, and most chemicals. The cables are ideal for clean room use, and they can also be used in vacuum environments.
Fire Resistant - Cables are fire resistant, as they meet the UL-94 vertical flame standard, as well as other fire standards
Cicoil has been the leader in designing and manufacturing high performance cable assemblies for over fifty years. The company's unique silicone coated flat cables provide high flexibility, extremely long life, and they can withstand temperature extremes from -65 degrees to +260 degrees Celsius. Cicoil's cables are used in thousands of demanding applications, including commercial aircraft, military jet fighters, semiconductor equipment, and the Space Shuttle. Cicoil designs and manufactures its cable and cable assemblies in an automated facility in Valencia, California. Cicoil's quality assurance system is certified to the ISO 9001 (AS9100) standard. Visit
www.cicoil.com
for more information, or call 661-295-1295 to speak to an application engineer.