Cicoil LSZH IDC Ribbon Cable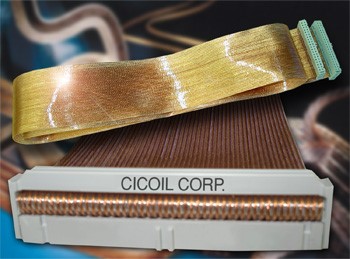 Valencia, CA; November 29, 2020: Cicoil, the global leader in highly flexible flat cable technology now offers Low Smoke Zero Halogen (LSZH) IDC Ribbon Cables for applications that require non-toxic, corrosive free, low smoke, flame retardant, zero halogen content and environmentally friendly cables. Unlike other LSZH cables that tend to be stiff, Cicoil's ultra-flex design is the perfect alternative.
The Ultra-flexible IDC Ribbon Cable is jacketed with Cicoil's proprietary Flexx-Sil™ rubber jacketing material and has been tested by a UKAS certified lab for smoke, toxicity, flammability and halogen content. The Cable passed all tests!
Typically, electrical cables manufactured with Fluoropolymers, PVC and Neoprene require the addition of halogens to make them flame retardant and to withstand high temperatures. However, when cables infused with halogens are burned, toxic fumes and acidic gases (when bonded with hydrogen) are produced, which sear the eyes, nose, mouth and throat and cause severe respiratory damage, disorientation and even death.
Fortunately, Cicoil's proprietary Flexx-Sil™ jacketing material utilized on its IDC cable contains zero halogens, and by nature are flame retardant, so they are the safer alternative to those cables manufactured with harmful ingredients. Due to its unique mixture of materials, the ultra-pure Flexx-Sil™ does not ignite easily, and if ignited, will not produce black smoke or toxic gas during combustion. In addition, Cicoil's "Crystal-Clear", non-corrosive jacket does not contain color additives, plasticizers or CFC's, which are typically found in most cable jacketing materials.
Cicoil's 28 AWG IDC Ribbon cable is designed to work directly with standard Insulation Displacement Connectors (IDC). The wire spacing and dimensions are standardized, with the wire 'pitch' (wire spacing) set at .050" for the English version, or 1mm for the metric version. Cicoil's ribbon cables are available with up to 64 conductors, meet the standard ribbon cable dimensions and are completely compatible with any IDC connector.
The ultra-pure Flexx-Sil jacket offers 100% transparency, is self-healing from small punctures and will not deform or prematurely age due to prolonged exposure to sunlight, steam, artic temperatures (-65°C), high heat, (+260°C) ozone, UV light, radiation, humidity, fungus, acid, water, sodium chloride, vibration and many chemicals. When a non-adhering or abrasion resistant jacket surface is desired, Cicoil offers its SlideRite™ and GlideRite™ coating options by request.
Cicoil's LSZH IDC Ribbon Cables are UL Recognized, CE Conforming, RoHS & REACH Compliant, Class One Clean Room Rated and are cured continuously, with no debris or material contamination in an automated, climate controlled environment. In addition, the cable jacket passes UL/CSA VW-1, FT 1 & FT 2, UL 94V-0 flammability testing, HL1 & HL2 levels of EN 44545-1, FAA burn testing, exceeds the outgassing requirements of ASTM E595, and are excellent for use in vacuum environments.
Cicoil has been a leader in designing and manufacturing high performance cable assemblies for over sixty years. The company's Patented Flexx-Sil™ Flat Cable Technology provides high flexibility, extremely long life, and they can withstand temperature extremes from -65 degrees to +260 degrees Celsius. Cicoil's flat cables are used in thousands of demanding applications; including aircraft fuel control cells, semiconductor automation, and the International Space Station. Cicoil designs and manufactures its Flexx-Sil™ jacketed cables and cable assemblies in an automated facility in Valencia, California. Cicoil's quality assurance system is certified to the ISO 9001 (AS9100) standard. Visit www.cicoil.com for more information, or call 661-295-1295 to speak to an application engineer.