Cicoil Earns UL Recognition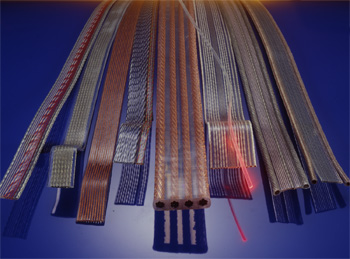 Cicoil, is pleased to announce that it has earned UL recognition for our High-Flex Silicone Cable Jacketing. Recognized components under File No. E324413. Further information for this certification can be found in Underwriters Laboratories QMTR2 Guidelines.
QMTR2 Summary:
"This category covers materials that have been tested in accordance with established methods to define their properties in order to facilitate investigation of their use in end-use product applications. The tests may include the determination of material flammability (burning characteristics), ignition characteristics from various thermal and electrical sources, electrical tracking and other electrical characteristics, physical and mechanical characteristics, and analytical tests. In addition, the effect of long-term exposure to elevated temperature (air-oven aging), water, ultraviolet light, cold, etc., on property retention may be investigated."
Cicoil's flexible flat cables also carry CE Approval and are RoHS Compliant. They feature the exclusive Cicoil silicone extrusion process for a strong, flexible, clear cable. Cicoil's cables provide many unique advantages:
Flexibility - Ultra Flex, finely stranded wire conductors, and flexible silicone make Cicoil's cables highly flexible, with a bend radius as small as 1/4" in flexing applications. Also the cables can be 'folded over' for static applications.
Long Life - Rated for over 10 million cycles in flexing applications
Extreme Environments - Silicone rubber cables operate from -65°C to 260°C, including exposure to water, steam, salt, and most chemicals. The cables shed no particulates and are ideal for clean room use, and they can also be used in vacuum environments.
Cicoil has been the leader in designing and manufacturing high performance cable assemblies for over fifty years. The company's unique silicone coated flat cables provide high flexibility, extremely long life, and they can withstand temperature extremes from -65 degrees to +260 degrees Celsius. Cicoil's cables are used in thousands of demanding applications, including commercial aircraft, military jet fighters, semiconductor equipment, and the Space Shuttle. Cicoil designs and manufactures its cable and cable assemblies in an automated facility in Valencia, California. Cicoil's quality assurance system is certified to the ISO 9001 (AS9100) standard. Visit
www.cicoil.com
for more information, or call 661-295-1295 to speak to an application engineer.