Cicoil Celebrates 1 Million Hour Milestone on LITENING Precision Targeting Pods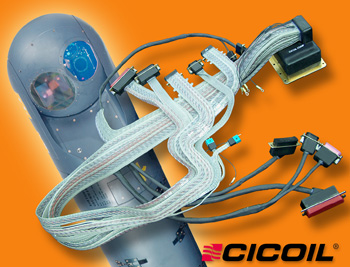 Northrop Grumman Corporation announced "the achievement of over one million operational hours for the company's LITENING precision targeting and sensor systems currently deployed with U.S. and allied forces." Cicoil Corporation is proud to be the manufacturer of the cable assembly which is the 'electrical backbone' for the LITENING system, and pleased to be a part of this notable milestone.
The LITENING pod, jointly manufactured by Rafael and Northrop Grumman, is used on fighter jets for the United States Air Force, and it also used by the Israeli, German, Dutch and Hungarian Air Forces. The custom Cicoil cable assembly, which includes sealed connectors and over 1,200 soldered connections, is used to coordinate the vision sights and a multiple sensor array that enables target selection, identification, and precise strike and damage assessment. There are over 1,000 LITENING pods in use worldwide, and they have proven themselves as the leading targeting technology available, in terms of both performance and reliability.
For the production of the LITENING cable assemblies, Cicoil was the first company in the United States to receive the prestigious 'Ship-To-Stock' quality certification from Rafael Advanced Defense Systems, based in Israel. Gideon Keren, Rafael's Quality Assurance Manager, stated: "Cicoil's quality and delivery performance has been excellent, and we are extremely confident of the company's capabilities. Cicoil's management, AS9100 quality system, and rigorous attention to all quality details, are the reasons we awarded Cicoil the Ship-To-Stock certification. The LITENING navigation and targeting pod is a very important program for Rafael, and Cicoil's cable assemblies are critical to the Pod's performance, so we take this step being fully confident of Cicoil's capabilities."
Howard Lind, Cicoil's President, said: "The success of the LITENING navigation and targeting pod is very gratifying to everyone at Cicoil, as we've been a major supplier on the project since its inception. Northrop Grumman and Rafael should be very proud of reaching the million-hour milestone, as we all are at Cicoil. We are very honored to have been—and to continue being—a part of the LITENING success."
Cicoil has been the leader in designing and manufacturing high performance cable assemblies for over fifty years. The company's unique Flexx-Sil™ coated flat cables provide high flexibility, extremely long life, and they can withstand temperature extremes from -65 degrees to +260 degrees Celsius. Cicoil's cables are used in thousands of demanding applications, including commercial aircraft, military jet fighters, semiconductor equipment, and the Space Shuttle. Cicoil designs and manufactures its cable and cable assemblies in an automated facility in Valencia, California. Cicoil's quality assurance system is certified to the ISO 9001 (AS9100) standard. Visit www.cicoil.com for more information, or call 661-295-1295 to speak to an application engineer. Also mentioned: Northrop Grumman Corporation; Rafael Advanced Defense Systems.