Stop by and Visit Cicoil at the MD&M Show - Booth 1809!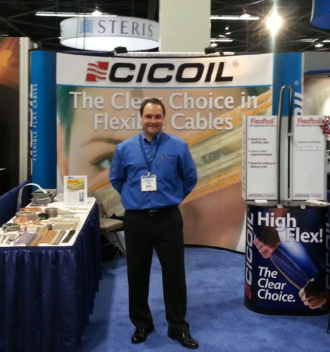 Anaheim Convention Center, Anaheim California
Exposition: February 12-14, 2013
The MD&M Show is co-located with WestPack, AeroCon, Electronics West, ATX West, Pacific Design & Manufacturing and PLASTEC Trade ShowsIf you have not done so yet, make a note to visit Cicoil - Booth 1809 to learn the latest in flat cable capabilities that can bring an extra level of sophisticated to your medical, pharmaceutical and life science devices.See the New FlexRail™ Self-Supporting Cable and our unique extruded silicone jacket, flat ultra-flexible cables and assemblies.Meet and speak with engineers and other Cicoil team members. Nothing is like Cicoil Flat Cable... The Clear Choice.Cicoil's Flexible Flat Silicone Cables are designed to provide absolute reliability and uninterrupted operation when utilized in Pharmaceutical Processing Systems. Unlike other types of cables, such as PVC, Polyurethane or PTFE, Cicoil's designs are Non-Contaminating, Flame Retardant (UL 94 V-0) and Class 1 Clean Room Rated for continuous motion applications.Cicoil-s light-weight cables can incorporate any variety of data, power and video conductors in a single, compact cable design. In addition to every type of electrical conductor, the cables can also include single and multi-lumen tubing for air or liquid transfer, and other design elements like Cicoil's patented StripMount™ fastening strip, all in the same cable, precisely controlling the inner component spacing, jacket thickness and the overall cable shape.