New Cicoil Flat Cable Catalog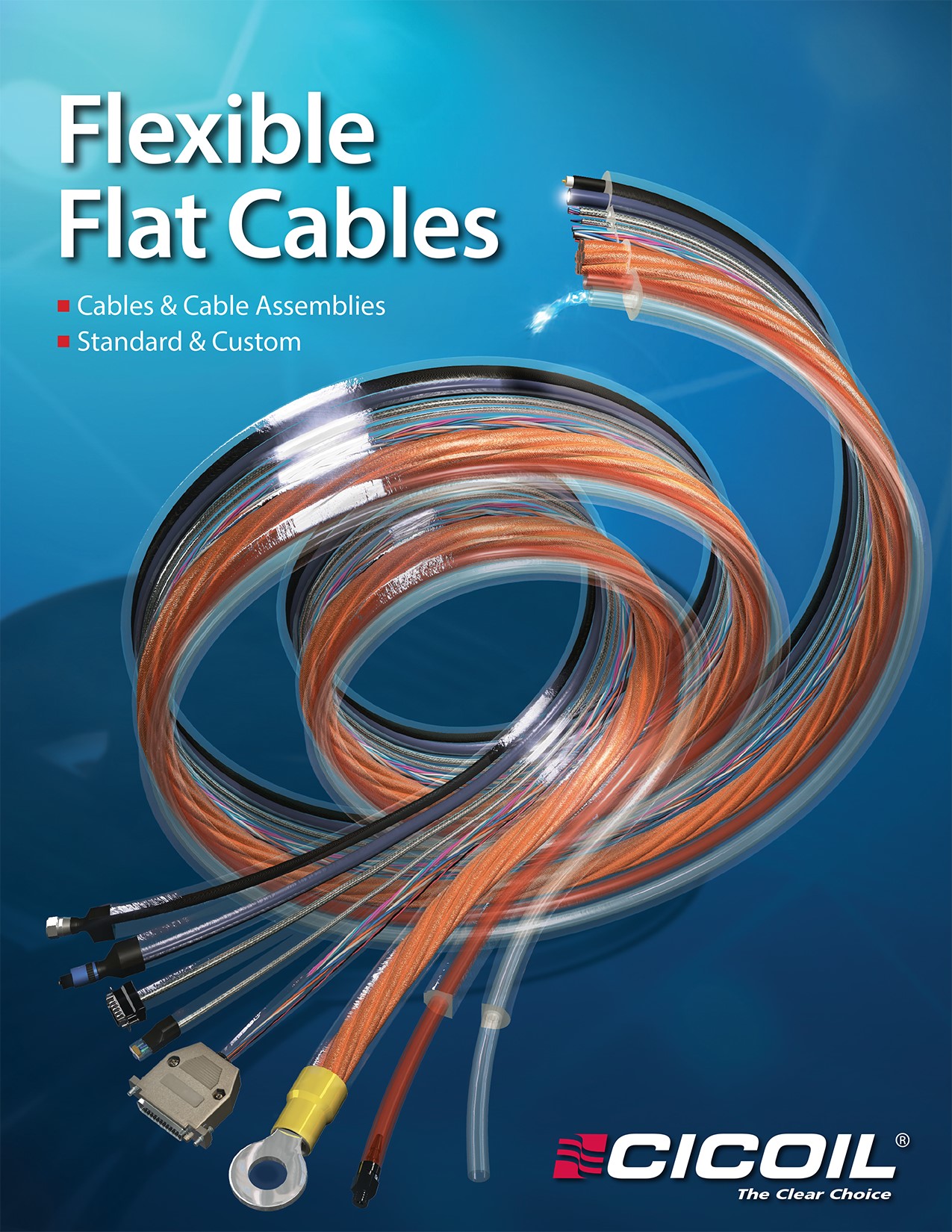 Valencia, CA; July 29, 2020: Cicoil, the leading manufacturer of high Performance Flexx-Sil™ jacketed Flat Cables and Assemblies, is pleased to announce the release of its New Electronic Product Catalog. The 58-page, full color PDF catalog offers an extensive selection of 700+ standard part numbers, 24 Products, custom capabilities, specification tables and technical field sales support tools.
Organized by product category, the innovative catalog features one-page outlines for each product group, including product features & benefits, specifications, applications, photos and ordering information for each bulk cable and cable assembly design. Features include the following:
Motion Control Cables (HFFR) - Motion Series, Motion Series Plus, EZ-Flexx™ Motion Series Plus, Motor Power and Shielded Signal Cables
Video and Data Cables (HFFR) - Cat 5e (Round and Flat) & Cat 6, Camera Link™, Controlled Impedance, USB 2.0 & 3.0, Flexible 50 ohm & 75 ohm Coax, Fire Wire and HDMI Cables
Highly Flexible Low Smoke Zero Halogen Unshielded Cables – Continuous Flex Control & Power, Hi-Temp IDC Ribbon, Ultra-Flexible Micro IDC Ribbon Cable, Hi-Temp Festoon, High Voltage Single Conductor and Type J & K Thermocouple (Halogen Free Flame Retardant) Cables
Standard Cable Assemblies, complete with connectors, available for EVERY Cicoil flat cable (3, 6, and 12 foot lengths)
Customizing Flat Cables and Assemblies with The Online Cable Configurator, Low Friction Options, StripMount™ Integrated Mounting Strip and Tubing Only + Hybrid Cables
Complete Technical Information, including our "Patented Extrusion Process", "Comparisons to other Technologies" and "Top 10 Reason Why to Use Cicoil Flat cables"
Located at https://www.cicoil.com/support/view-full-catalog-online the "Paperless" Catalog can be easily downloaded to a PC, laptop and mobile devices, such as Apple and Android cell phones and tablets.
Cicoil's "Crystal Clear" cables contain no harmful contaminants or halogens, are low outgas, RoHS & REACH Compliant and are cured continuously, with no debris or material impurities in an automated, climate-controlled environment. The cables also pass UL/CSA VW-1, FT 1 & FT 2, UL 94V-0 flammability testing and FAA burn testing.
If you would like to learn more about our Innovative Flat Cable Technology and how Cicoil developed the World's First Flat Cables, helped put a Man on the Moon, and designed the first Class 1 Clean Room Cable, please contact our office at 661-295-1295 to discuss your application.
Cicoil has been a leader in designing and manufacturing high performance cable assemblies for over sixty years. The company's Patented Flexx-Sil™ Flat Cable Technology provides high flexibility, extremely long life, and they can withstand temperature extremes from -104 degrees to +260 degrees Celsius. Cicoil's flat cables are used in thousands of demanding applications; including aircraft fuel control cells, semiconductor automation, and the International Space Station. Cicoil designs and manufactures its Flexx-Sil™ jacketed cables and cable assemblies in an automated facility in Valencia, California. Cicoil's quality assurance system is certified to the ISO 9001 (AS9100) standard. Visit www.cicoil.com for more information, or call 661-295-1295 to speak to an application engineer.