Get the NEW Cicoil Flat Cable & Assemblies Catalog!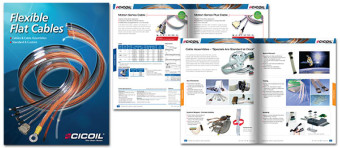 Valenica, CA; June 25, 2013: Cicoil, the leading manufacturer of high Performance Flexx-Sil™ Flat Cables and Assemblies, is pleased to announce the release of its New Master Catalog. Available in print and electronic format, the 52 page, full color catalog offers an extensive selection of 700+ standard part numbers, 27 New Products, custom capabilities, specification tables and technical field sales support tools.
Organized by product category, the innovative catalog features a one page outline for each product, including product features & benefits, specifications, applications, photos and ordering information for each bulk cable and cable assembly design. Features include the following:
Motion Control Cables - Motion Series, Motion Series Plus, Motor Power and Shielded Signal Cables
Video and Data Cables - Cat 5e & Cat 6, Camera Link™ Controlled Impedance, USB 2.0 & 3.0, Flexible Coax and Fire Wire Cables
Highly Flexible Unshielded Cables - Continuous Flex Control & Power, Hi-Temp IDC Ribbon, Hi-Temp Festoon, High Voltage Single Conductor and Thermocouple Cables
Standard Cable Assemblies, complete with connectors, available for EVERY Cicoil flat cable (3, 6 and 12 foot lengths)
Customizing Flat Cables and Assemblies with The Online Cable Configurator, Low Friction Options, StripMount™ Integrated Mounting Strip, SuperTuff™ Jacketing, Tubing and FlexRail™ Trackless Self-Supporting Cable System
Complete Technical Information, including our "Patented Extrusion Process", "Comparisons to other Technologies" and "Top 10 Reason Why to Use Cicoil Flat cables"
Howard Lind, Cicoil's President & CEO, stated that "the New Catalog represents many months of work by our design, engineering and marketing team. It is targeted at engineers, designers and customers for flexible flat cable, with the goal to give users detailed, beneficial information and tools that they can use to understand and specify our products. The New Catalog has a tremendous amount of technical information, along with pictures and assembly illustrations, to aid in the specification process. And standard bulk cables are listed, along with cable assemblies with standard connectors to make it a fast and simple process for people that want to order in bulk, value added, or as complete assemblies."
Cicoil has been a leader in designing and manufacturing high performance cable assemblies for over fifty years. The company's Patented Flexx-Sil™ Flat Cable Technology provides high flexibility, extremely long life, and they can withstand temperature extremes from -65 degrees to +260 degrees Celsius. Cicoil's flat cables are used in thousands of demanding applications; including aircraft fuel control cells, semiconductor automation, and the Space Shuttle. Cicoil designs and manufactures its Flexx-Sil™ jacketed cables and cable assemblies in an automated facility in Valencia, California. Cicoil's quality assurance system is certified to the ISO 9001 (AS9100) standard. Visit www.cicoil.com for more information, or call 661-295-1295 to speak to an application engineer.