Cicoil's Prestigious 5-Star Supplier Excellence Award from Raytheon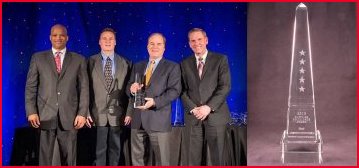 For the second time in 4 years, Cicoil has been awarded Raytheon Integrated Defense System's (IDS) prestigious 5-Star Supplier Excellence Award. Cicoil received the award from Raytheon IDS at a ceremony in Waltham, Massachusetts on June 4, 2014.
Raytheon's Integrated Defense Systems (IDS) business instituted the annual Supplier Excellence Awards program to recognize suppliers who have provided outstanding service and partnership in exceeding customer requirements. Award candidates are judged on certain criteria, including overall quality, on-time delivery and demonstrated commitment to continuous improvement. A 5-Star recognition is the highest level of recognition a Raytheon's Integrated Defense Systems (IDS) business supplier can achieve for excellence in quality and performance, and Cicoil was one of 15 companies selected.
"We are extremely pleased to be honored by Raytheon and to be recognized as one of only 15 suppliers to receive a 5-Star Award is a tremendous achievement," said Cicoil's CEO Howard Lind. "This award is a testament to the hard work and dedication of every Cicoil employee, as we continuously strive to provide the highest quality, on-time delivery, and a dedication to continuous improvement. The entire Cicoil team thanks Raytheon for recognizing our company for our hard work, and for our outstanding results. We are proud to be recognized again as one of Raytheon's top, 5-Star suppliers."
Cicoil provides high performance cable assemblies for Raytheon's advanced systems, including AIM-9X Sidewinder, RAM, TOW, EKV and Patriot Missile Systems.
Cicoil has been a leader in designing and manufacturing high performance cable assemblies for over fifty years. The company's Patented Flexx-Sil™ Flat Cable Technology provides high flexibility, extremely long life, and they can withstand temperature extremes from -65 degrees to +260 degrees Celsius. Cicoil's flat cables are used in thousands of demanding applications; including aircraft fuel control cells, semiconductor automation, and the Space Shuttle. Cicoil designs and manufactures its Flexx-Sil™ jacketed cables and cable assemblies in an automated facility in Valencia, California. Cicoil's quality assurance system is certified to the ISO 9001 (AS9100) standard. Visit www.cicoil.com for more information, or call 661-295-1295 to speak to an application engineer.