Cicoil Opens Up New Office in South Carolina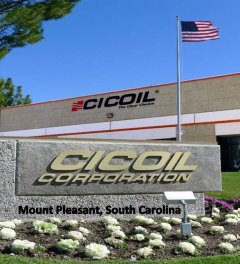 Based on growing demand for its flexible flat cable products in the Southeastern region of the USA, Cicoil is pleased to announce the opening of a new sales office in Mount Pleasant, SC. Located across the harbor from Charleston, the new location will enable Cicoil (Valencia, CA) to better serve its growing customers in the Carolina's, as well as the entire Southeast territory.
The move comes at a time when Cicoil is developing new products and manufacturing capabilities, so the office will be able to provide immediate technical support and cable design assistance for all Cicoil cables and fully terminated assemblies. The new location will be overseen by Cicoil's National Sales & Marketing Manager Rich Buchicchio, who has been with the organization for almost 7 years.
Howard Lind Cicoil President & CEO remarks, "Cicoil is pleased to now have a more physical presence in the Southeastern USA, where we have had customers for many years. With the Mount Pleasant, SC location, we are very excited to now have the ability to interact with our clients face-to-face on a much more frequent basis, which we feel will help us to expand upon our success in this region of the country."
If you would like to learn how Cicoil developed the first IDC Ribbon Cable, helped to put a Man on the Moon and find out more about innovative, crystal-clear flat cable products, including our New EZ-Flexx™ designs and our Flat Cable Configurator Design Tool, please contact our new office at 843-936-3352 to set up an on-site visit to your location.
Cicoil has been a leader in designing and manufacturing high performance cable assemblies for almost sixty years. The company's Patented Flexx-Sil™ Flat Cable Technology provides high flexibility, extremely long life, and they can withstand temperature extremes from -65 degrees to +260 degrees Celsius. Cicoil's flat cables are used in thousands of demanding applications; including aircraft fuel control cells, semiconductor automation, and the Space Shuttle. Cicoil designs and manufactures its Flexx-Sil™ jacketed cables and cable assemblies in an automated facility in Valencia, California. Cicoil's quality assurance system is certified to the ISO 9001 (AS9100) standard. Visit www.cicoil.com for more information, or call 661-295-1295 to speak to an application engineer.