Cicoil Celebrates 60 Years in Business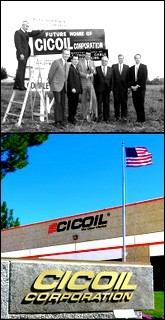 Valencia, CA; March 4, 2016:
Cicoil, the originator and world-wide leader of Flexible Flat Cable solutions is proud to announce the celebration of its 60
th
year in business. Cicoil owes its success to its customers, highly dedicated ownership and talented team of employees.
Cicoil was founded in Chatsworth, California on March 5, 1956 as a provider of multi-conductor cables to the mainframe computer industry. Cicoil's engineers had figured out how to use liquid silicone rubber to mold a flat cable containing multiple conductors of the same size. Since the cable looked like a flat ribbon or a tape, Cicoil named it Ribbon Cable, and the Flexible Flat Cable was born.
The Flat Ribbon Cable allowed companies like IBM, Sperry/Univac, and NCR to replace bulky, stiff round cables with sleek, flexible ribbon cables. This innovative development helped in the advancement of mainframe computers, card readers, keypunch systems and paper tape reader machines.
In the 1960's, Cicoil's Ribbon Cables also helped America put a man on the moon, as the lightweight cables were integral to the first American Orbit of the Earth (John Glenn), first Space Walk in 1965 (Edward White), and the Lunar Landing in 1969 (Neil Armstrong and Buzz Aldrin). In the decades that followed, Cicoil flat cables have performed on every US fighter jet, most commercial airplanes, and many demanding missile and land-based applications.
To meet the needs of its growing, diverse customer base, Cicoil developed a new extrusion process in 1998, which allowed it to manufacture continuous lengths of flat cable with a unique, crystal clear material named Flexx-Sil™. Representing a quantum leap from Cicoil's original molded flat cables, the new Flexx-Sil™ material and extrusion process created a wide variety of high performance, cost-effective flat cable solutions for Semiconductor, Motion Control, Mil/Aero and Medical Automation industries worldwide.
Howard Lind, Cicoil President & CEO remarks, "I often say that Cicoil is '60 Years Young.' Cicoil's proud history includes many innovations, including inventing the ribbon cable, and helping to put a man on the moon. Our spirit of exploration and innovation continues today, with new technologies like EZ-Flexx Flat Cables, and patented cables that include power, data, liquids, and pneumatics, all in a compact package. From cutting-edge medical equipment, to satellites, to the Joint Strike Fighter, Cicoil cables continue to excel in the toughest, mission-critical applications. We look forward proudly to another 60 years of excellence and innovation."
If you would like to learn how Cicoil developed the First IDC Ribbon Cable, helped put a Man on the Moon, and find out more about our Innovative Flat Cable Technology, please contact our office at 661-295-1295 to discuss your application or to set up an on-site visit to your location.
Cicoil has been a leader in designing and manufacturing high performance cable assemblies for more than sixty years. The company's Patented Flexx-Sil™ Flat Cable Technology provides high flexibility, extremely long life, and they can withstand temperature extremes from -65 degrees to +260 degrees Celsius. Cicoil's flat cables are used in thousands of demanding applications; including aircraft fuel control cells, semiconductor automation, and the Space Shuttle. Cicoil designs and manufactures its Flexx-Sil™ jacketed cables and cable assemblies in an automated facility in Valencia, California. Cicoil's quality assurance system is certified to the ISO 9001 (AS9100) standard. Visit
www.cicoil.com
for more information, or call 661-295-1295 to speak to an application engineer.