Cicoil Announces its New Website!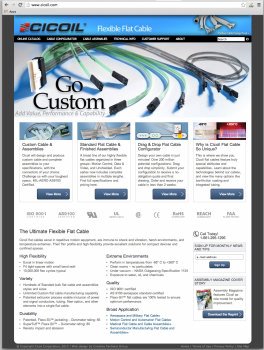 Cicoil, the leading manufacturer of high Performance Flexx-Sil™ Flat Cables and Assemblies, is pleased to announce its newly expanded website, featuring the company's entire product catalog, complete with part number and keyword searches for all 700+ standard bulk cables and fully terminated cable assemblies. Now customers can easily look up Cicoil products at any time from any place, without having to wait to receive a print copy of the catalog.
Located at www.cicoil.com, the website also features a Customer Support section which features on-line literature/sample request forms, technical support and a sales rep locator function, where users can simply search by region to locate a local Cicoil representative, who can assist them with their cable application designs. In addition, Cicoil's Value Added Reseller Partner and Stocking Distributor information is listed as well.
An entire section of the website is dedicated to Cicoil's Expanded Drag & Drop Cable Configurator, which allows a user to design a custom cable in just minutes. Cables can be constructed of many elements, including power conductors, shielded signal pairs, video & coax wires, tubing for liquid and air, special modules and design elements like Cicoil's patented StripMount™ fastening strip. Any of these elements can be combined in a flat cable, which means that millions of flat cable designs are available for immediate production and delivery. Immediately after constructing a flat cable design, users receive a price quotation and engineering drawing. Once the cable is ordered, Cicoil guarantees a 1-2 week delivery on any cable designed using the Cable Configurator.
In addition to standard catalog items and custom cables, the new web site includes its custom cable assembly section, which features a recently expanded photo gallery and value added options, such as custom shapes, formed cables, space/vacuum cables, integrated tubing and complex molding capabilities.
Other updated sections include an About Us section featuring a News & Advertising Gallery, and a Technical Info section, which includes a Flat Cable Technology Overview, PDF Library, Industry Applications, FAQ's, Glossary and a Video library, which features the New step-by-step video tutorial "How to Strip a Flat Cicoil Flexx-Sil™ Cable".
Cicoil has been a leader in designing and manufacturing high performance cable assemblies for over fifty years. The company's Patented Flexx-Sil™ Flat Cable Technology provides high flexibility, extremely long life, and they can withstand temperature extremes from -65 degrees to +260 degrees Celsius. Cicoil's flat cables are used in thousands of demanding applications; including aircraft fuel control cells, semiconductor automation, and the Space Shuttle. Cicoil designs and manufactures its Flexx-Sil™ jacketed cables and cable assemblies in an automated facility in Valencia, California. Cicoil's quality assurance system is certified to the ISO 9001 (AS9100) standard. Visit www.cicoil.com for more information, or call 661-295-1295 to speak to an application engineer.