White Paper: Not Your Father's Flat Cable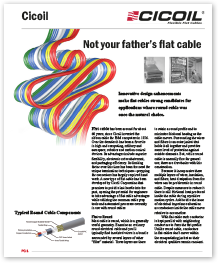 There is a strong case for replacing common round cables with Flat Cable. We show you why in this 5‑page report.
Much has changed since Cicoil invented flat cable in 1956. Catch up with the history and evolution of today's modern flat cable. It's a fascinating and illuminating read.
Flat vs Round Cable
EZ-Flexx™ Changes Everything
Traditional Flat Cable vs Contoured Flat Cable
What to Expect from EZ-Flexx Flat Cable
Just What Is Flexx-Sil™?
Anatomy of a Contoured Flat Cable
Much More...