NEW Micro IDC Cable: Half the Size, Twice the Flex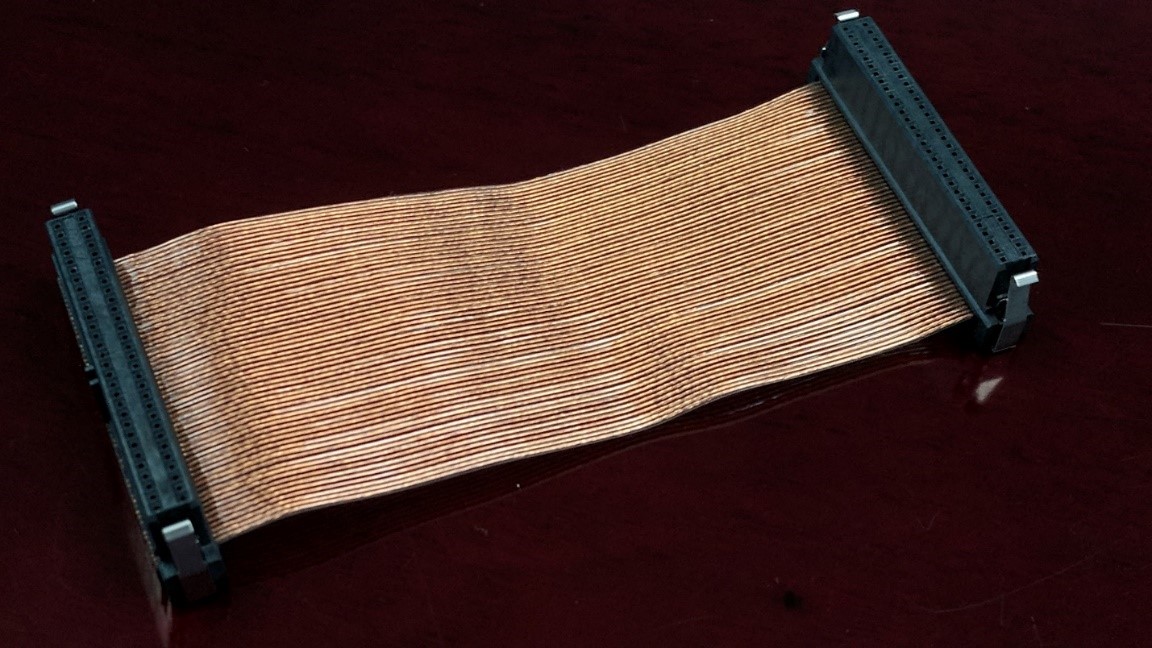 Valencia, CA; August 28, 2018: Cicoil, the inventor of the world's first IDC Ribbon Cable in 1956, is pleased to announce the introduction of its new ultra-flexible Micro IDC Ribbon Cable. Unlike stiff PVC and Teflon® versions, the space-saving, .025" pitch Cicoil version has been designed for tight routing applications that require dependable signal density, reduced cable width and exposure to harsh environments, mechanical stress and excessive temperatures (-65°C to +260°C).
Cicoil's patented extrusion process allows individually encased, finely stranded bare copper wires to be placed in a very small flat profile, precisely controlling the spacing of each component and the overall cable shape. Approximately, half the size of standard 28 AWG IDC Ribbon Cables, the new 30 AWG Flexx-Sil™ rubber jacketed cables are available with up to 64 conductors and fully terminated assemblies are offered in 3 foot, 6 foot and 12 foot lengths. In addition, the cables are completely compatible with any Insulation Displacement Connectors (IDC). Check out the YouTube video which shows how to quickly and easily install an IDC connector to the Micro IDC cable: https://www.youtube.com/watch?time_continue=1&v=xP1JqsvdUJI
The Micro IDC Ribbon Cables are rated for 3000 Volts DC and are resistant to water, alcohol, hydrogen peroxide, humidity, UV light, radiation, flames, aging, autoclave, ozone, sunlight, fungus, vibration and many chemicals. When a non-adhering jacket surface is desired, Cicoil offers its SlideRite™ and GlideRite™ low friction coating options by request.
Cicoil's halogen-free Micro IDC Ribbon Cable is UL & CSA Recognized, CE Conforming, RoHS & REACH Compliant, Class One Clean Room Rated and are cured continuously, with no debris or material contamination in an automated, climate controlled environment. In addition, the non-particulate generating cables exceed the outgassing requirements of ASTM E595 and are also excellent for use in vacuum environments.
If you would like to learn how Cicoil developed the first IDC Ribbon Cable, helped put a Man on the Moon and designed the first Class 1 Clean Room Cable, please check out our web site at www.cicoil.com.
Cicoil has been a leader in designing and manufacturing high performance cable assemblies for over sixty years. The company's Patented Flexx-Sil™ Flat Cable Technology provides high flexibility, extremely long life, and they can withstand temperature extremes from -65 degrees to +260 degrees Celsius. Cicoil's flat cables are used in thousands of demanding applications; including aircraft fuel control cells, semiconductor automation, and the Space Shuttle. Cicoil designs and manufactures its Flexx-Sil™ jacketed cables and cable assemblies in an automated facility in Valencia, California. Cicoil's quality assurance system is certified to the ISO 9001 (AS9100) standard. Visit www.cicoil.com for more information, or call 661-295-1295 to speak to an application engineer.