NEW Manufacturing Technology Revolutionizes Flat Cable Performance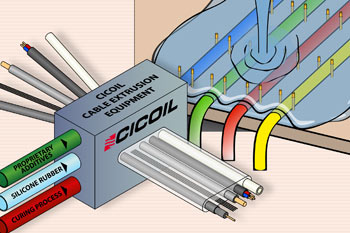 Cicoil, the leader in high performance, flexible flat cable, announces NEW extruded cable technology that is vastly superior to the prior molded cable manufacturing methods. The comparison between Cicoil's unique extrusion technology and conventional-yet-outmoded molded cable manufacturing methods are now available on the company's website, or as a PDF for download.
The Extrusion vs Molded cable comparison is part of an ongoing series at Cicoil.com of head-to-head comparisons of cable manufacturing methods, performance capabilities, size, materials, cost, and other topics of interest to electrical engineers designing and using flat cables for aerospace, automation, medical, and other high performance applications.
The Extrusion vs Molded cable page Cicoil compares the issues of Quality Control, Strength, Reliability, Versatility and Cost. This comparison may be viewed here.
Cicoil has been a leader in designing and manufacturing high performance cable assemblies for over fifty years. The company's unique silicon coated flat cables provide high flexibility, extremely long life, and they can withstand temperature extremes from -65 degrees to +260 degrees Celsius. Cicoil's cables are used in thousands of demanding applications; including aircraft fuel control cells, semiconductor automation, and the Space Shuttle. Cicoil designs and manufactures its cable and cable assemblies in an automated facility in Valencia, California. Cicoil's quality assurance system is certified to the ISO 9001 (AS9100) standard.