New "Drag & Drop" Flat Cable Configurator Launched on Cicoil.com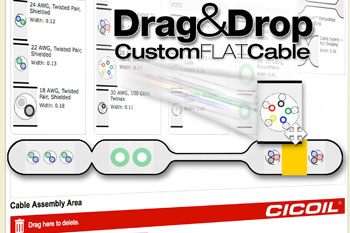 Cicoil, the exclusive manufacturer of extruded, silicone-jacketed flat cable has launched a new web application that allows users to design their own custom cable online. The Cable Configurator web application features drag & drop simplicity to design any flat cable, and get an immediate drawing and quote. Once the cable is ordered, Cicoil promises to ship any custom cable within one week.
Cables can be constructed of many elements, including shielded Power conductors, shielded Signal conductors, Video and Coax wires, Tubing for Fluids or Gases, and other design elements like Cicoil's patented StripMount™ fastening strip. Any of these elements can be combined in a flat cable, which means that millions of flat cable designs are available for immediate production and delivery. Immediately after constructing a flat cable design, users receive an engineering drawing and a price quotation. And once an order is placed, all custom flat cables are shipped in one week or less.
According to Howard Lind, Cicoil President, "Our flat cables offer designers ultimate flexibility to design the optimum cable for their application. And now our new Cable Configurator tool gives engineers the capability to quickly and easily create any flat cable they need. In addition to being simple and easy to use, we promise that any cable ordered will be delivered in one week or less. This exciting tool takes flat cable design to the next level, as our customers now have the power to design a custom flat cable with a few simple clicks of a mouse."
Cicoil Engineering Manager, John Palahnuk, adds, "We've made this application extremely easy to use. Just drag & drop cable elements into the build area. Users are able to delete elements, move them around, and add dividers and other optional elements, to build flat cables up to 3.75″ wide. There are literally millions of potential cable configurations possible. We are excited that this tool has the potential to make anyone a Cicoil Cable Designer!"
View, test, and play with Cicoil's Cable Configurator!
Cicoil has been a leader in designing and manufacturing high performance cable assemblies for over fifty years. The company's unique silicon coated flat cables provide high flexibility, extremely long life, and they can withstand temperature extremes from -65 degrees to +260 degrees Celsius. Cicoil's cables are used in thousands of demanding applications; including aircraft fuel control cells, semiconductor automation, and the Space Shuttle. Cicoil designs and manufactures its cable and cable assemblies in an automated facility in Valencia, California. Cicoil's quality assurance system is certified to the ISO 9001 (AS9100) standard.