New Cicoil On-Line Cable Configurator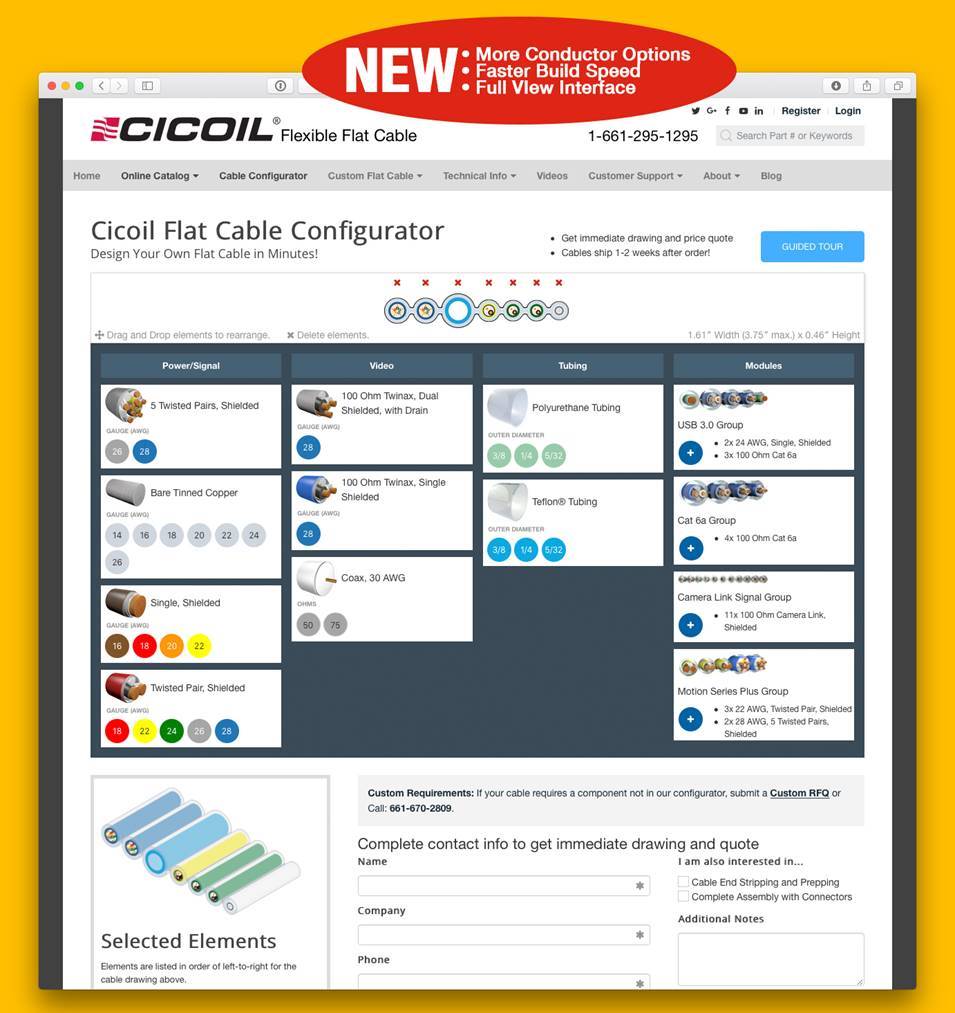 Valencia, CA; February 25, 2019: Cicoil, the leader in High Performance Flat Cables, is pleased to announce its New Flat Cable Configurator (patent pending). Located at https://www.cicoil.com/flat-cable/configurator, this Free Web-Based Tool lets anyone easily design a custom flat cable in minutes.
Need to design a flat cable on a mobile device? No worries, the Cable Configurator works seamlessly on all Apple and Android devices.
With a few simple mouse clicks or touch of a screen, Flat Cables can be constructed of multiple elements, including power/signal conductors, shielded pairs, video, data, or coax wires, and Tubing for liquid or air. To make the process even simpler, Cicoil has added Industry Standard Modules, including Camera Link®, Cat 6A, FireWire, and USB 3.0, to the Configurator.
As you click any of the many available elements, these items dynamically appear in the 'Cable Build' area, so you literally see your cable being built in front of your eyes! Clear, simple graphics show you the AWG wire size, insulation color, and wire type, so it's very easy to identify exactly what is in your Flat Cable. Cable dimensions change dynamically, and you can build cables up to 3.75" wide (wider cables are available by request). An isometric cable view and parts list is also built dynamically, so you have a clear record of the makeup of your Flat Cable. Any of Cicoil's Configurator elements can be combined in any position within the flat cable profile, which means that over 1 million flat cable designs are available for immediate production and quick delivery. If you want to reposition an element to a new spot in your cable, Click & Drag left or right, and if you want to remove an element, click it and delete it.
Once the flat cable is designed, the Configurator compiles your design and generates a drawing, quote and custom part number, and delivers it to your e-mail inbox in seconds. Cicoil guarantees delivery within 2 weeks on any cable designed using the Cable Configurator, with only a 100 foot minimum cable length required. A Guided Tour of the Configurator is also offered on the web site as well.
If a wire or element is not shown in our Configurator, please feel free to submit a Custom RFQ at https://www.cicoil.com/flat-cable/custom/rfq
As an added perk for new and current users of the website, Cicoil now offers a Site Membership Registration, which allows members to view online catalog pricing, auto-filled forms and access to all of your Online Configurator cable designs. Once registered, you will be able to immediately log in and take advantage of the exclusive Site Member benefits.
Cicoil has been a leader in designing and manufacturing high performance Flat Cable assemblies for more than sixty years. The company's Patented Flexx-Sil™ Flat Cable Technology provides high flexibility, extremely long life, and they can withstand temperature extremes from -65 degrees to +260 degrees Celsius. Cicoil's flat cables are used in thousands of demanding applications; including aircraft fuel control cells, semiconductor automation, and the Space Shuttle. Cicoil designs and manufactures its Flexx-Sil™ jacketed cables and cable assemblies in an automated facility in Valencia, California. Cicoil's quality assurance system is certified to the ISO 9001 (AS9100) standard. Visit www.cicoil.com for more information, or call 661-295-1295 to speak to an application engineer.