Flexible Flat Cables for Space Satellite Applications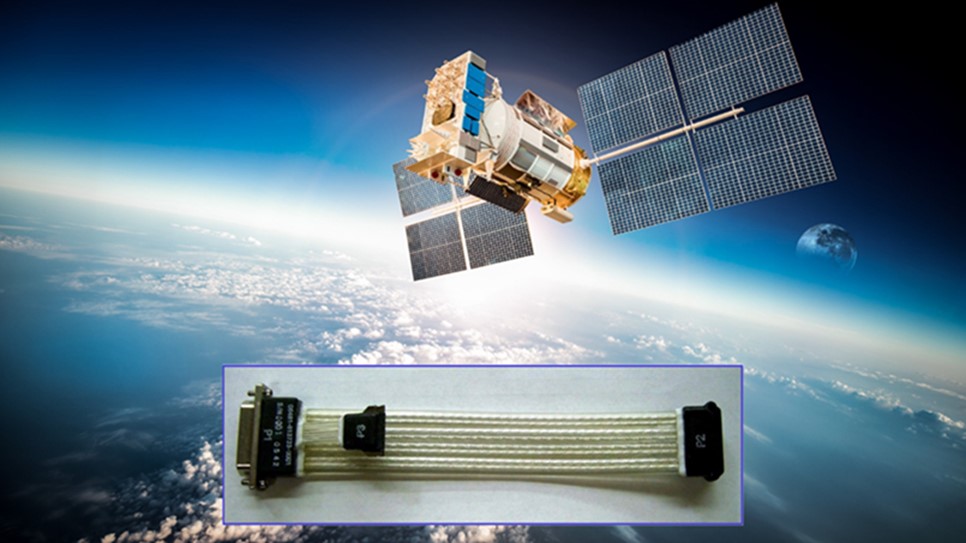 Valencia, CA; May 15, 2019: Approved by NASA for space flight, Cicoil's lightweight flat cables are designed to withstand extensive exposure to high levels of radiation, UV light and the dynamic temperature ranges of space (-65°C to +260°C) with no adverse effects. Encapsulated with Cicoil's Proprietary Flexx-Sil jacketing material, the crystal-clear flat cables offer uninterrupted performance, flexibility and mechanical & electrical reliability, even after 50+ years in Space. This combination of features make Cicoil the ideal choice for Mission Critical Space Satellite Applications.
Each unique Cicoil flat cable can incorporate a variety of separately encased elements including power conductors, shielded signal pairs, Ethernet, USB, HDMI, coax conductors, and other design elements like Cicoil's patented StripMount™ fastening strip, all in a single compact cable design. Cables are available in continuous lengths, Space Sensitive Custom Shapes, cut to order, or as assemblies, complete with connectors of your choice (Solder Tab Nano, Micro D, etc..), 100% tested and inspected.
The tear resistant outer Flexx-Sil™ rubber jacket is self-healing from small punctures and will not wear, crack or deform during a lifetime of more than 10 million flexing cycles or long term exposure to tight routing, vibration, G-Forces, operational stress and the harsh rigors of Space. For applications that require abrasion and adhesion resistance, Cicoil offers its Space Flight Approved GlideRite™ anti-friction coating option by request.
Cicoil's Contaminant-free, Class 1 Clean Room Rated Cables are manufactured in an automated, climate controlled environment, and exceed the NASA 1124 & ASTM E595-93 outgassing specifications for Space use and Vacuum requirements of 1% TML (Total Material Loss), and <0.1% CVCM (Collected Volatile Condensable Material).
Cicoil's flat cable assemblies have been utilized on every Apollo, Mercury, Gemini, Skylab, Mercury Voyager and Space Shuttle Missions; and today are utilized on Space Transport Rockets, Probes, Satellites and The International Space Station.
If you would like to learn how Cicoil developed the First IDC Ribbon Cable, helped put a Man on the Moon, and find out more about our Innovative Flat Cable Technology, please contact our office at 661-295-1295 to discuss your application or to set up an on-site visit to your location.
Cicoil has been a leader in designing and manufacturing high performance cable assemblies for over sixty years. The company's Patented Flexx-Sil™ Flat Cable Technology provides high flexibility, extremely long life, and they can withstand temperature extremes from -65 degrees to +260 degrees Celsius. Cicoil's flat cables are used in thousands of demanding applications; including aircraft fuel control cells, semiconductor automation, and the International Space Station. Cicoil designs and manufactures its Flexx-Sil™ jacketed cables and cable assemblies in an automated facility in Valencia, California. Cicoil's quality assurance system is certified to the ISO 9001 (AS9100) standard. Visit www.cicoil.com for more information, or call 661-295-1295 to speak to an application engineer.