Cicoil Ultra-Flexible Thermocouple Cables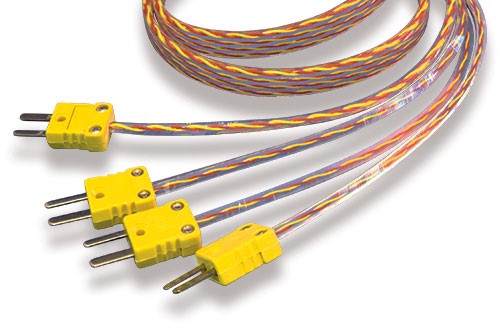 Valencia, CA; December 12, 2018: Cicoil, the inventor of the Flat Ribbon Cable, now offers ultra-flexible Thermocouple Cables for temperature sensing applications where accuracy and durability are required. Unlike traditional rigid Thermocouple cables, the Cicoil version excels when exposed to continuous flexing, torsion and tight routing.
Cicoil's 28 AWG Thermocouple Cable is available in Type J and K versions with 1 to 8 conductors, and is excellent for utilization on control instrumentation, heating systems, cooking & baking, machine tools, injection molding and automated equipment. The compact, flame retardant design is free of halogens & contaminants, and is engineered to provide space & weight savings, high performance and mission critical reliability.
Cicoil's patented extrusion process allows individually encased Thermocouple pairs to be placed in a small flat profile, precisely controlling the spacing of each component, insulation thickness and the overall cable shape. The cables are available in continuous lengths, break-outs, custom formed shapes, cut to order, or as fully terminated assemblies. Custom designs are also offered with minimum lead times. When a non-adhering jacket surface is desired, Cicoil offers its SlideRite™ and GlideRite™ low friction coating options by request.
The tear resistant outer Flexx-Sil™ rubber jacket is also self-healing from small punctures and will not wear, crack or deform during a lifetime of more than 10 million flexing cycles or long term exposure to tight routing, vibration, water, steam, shock, sunlight, temperature extremes (-85°F to +500°F), flames, radiation, operational stress, autoclave, humidity, ozone, UV light and many chemicals.
Cicoil's Ultra Flexible Thermocouple Cables are UL Recognized, CE Conforming, RoHS & REACH Compliant, Class 1 Clean Room Rated and are cured continuously, with no debris or material contamination in an automated, climate controlled environment.
If you would like to learn how Cicoil developed the First IDC Ribbon Cable, helped put a Man on the Moon, and find out more about our Innovative Flat Cable Technology, please contact our office at 661-295-1295 to discuss your application or to set up an on-site visit to your location.
Cicoil has been a leader in designing and manufacturing high performance cable assemblies for over sixty years. The company's Patented Flexx-Sil™ Flat Cable Technology provides high flexibility, extremely long life, and they can withstand temperature extremes from -65 degrees to +260 degrees Celsius. Cicoil's flat cables are used in thousands of demanding applications; including aircraft fuel control cells, semiconductor automation, and the Space Shuttle. Cicoil designs and manufactures its Flexx-Sil™ jacketed cables and cable assemblies in an automated facility in Valencia, California. Cicoil's quality assurance system is certified to the ISO 9001 (AS9100) standard. Visit www.cicoil.com for more information, or call 661-295-1295 to speak to an application engineer.