Cicoil Case Study: Tubing Cable Solutions for Medical Diagnostics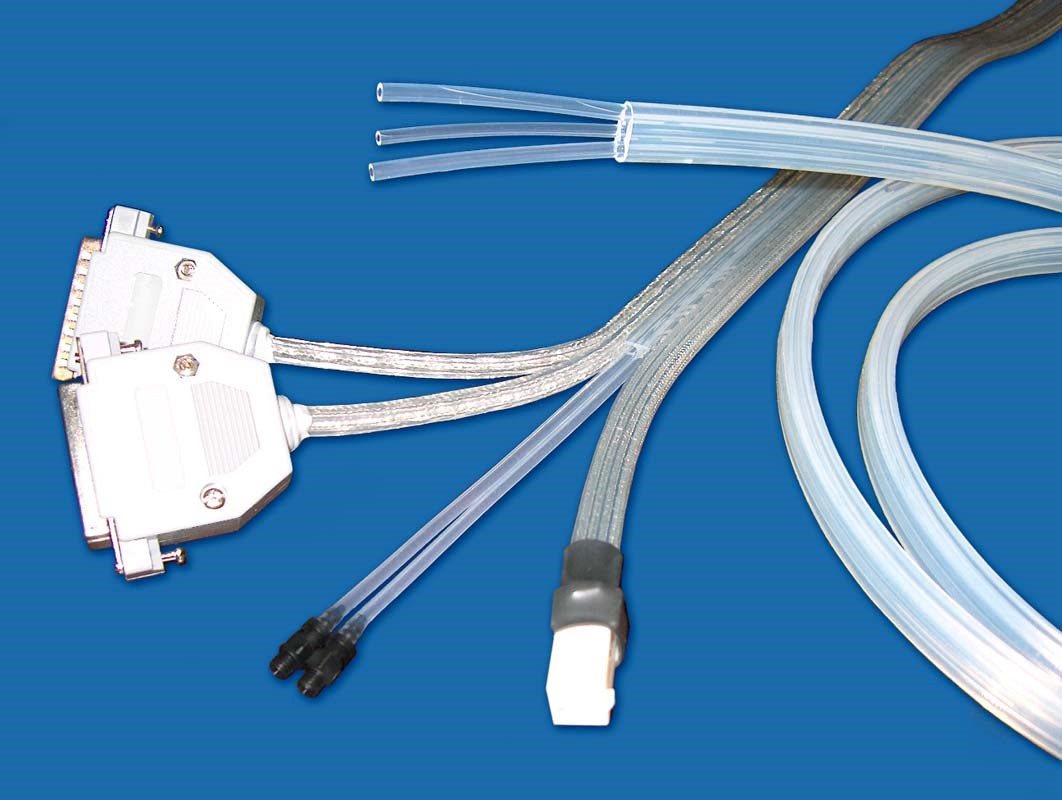 Valencia, CA; January 21, 2020: Cicoil, the leading manufacturer of high performance Flat Cables, is pleased to announce the 2nd addition of its New Case Studies Features to its web site. The study entitled "Electrical + Tubing Combined in One Flat Combination Cable for Blood Analysis Diagnostic Systems" showcases how Cicoil's combination cable assemblies eliminate messy wires, scattered cables and entangles tubing lines, while bringing simplicity and order to your application.
The Customer, a manufacturer of medical diagnostics equipment needed to find a way to increase efficiency and reduce the size of their highly sensitive system. Multiple cables and tubes are placed inside cable tracks where friction and entanglement cause performance failure to each. In addition, the customer wanted to isolate tubes from cables and eliminate the 2-foot long cable tracks, which are loud, generate particulates and take up valuable space.
After evaluating several round cable designs that did not meet their application requirements, the customer contacted Cicoil to explore its flat cable options. Unlike the traditional round cable alternatives that did not meet their expectations, the customer decided to evaluate and test Cicoil's standard Motion Series Plus cables, which produced positive results.
The customer then asked Cicoil if they could produce similar cables and offer a way to isolate the cables from the tubing. They were very surprised to learn that Cicoil doesn't just produce electrical cables, but its unique process is capable of combining conductors and tubing lines, all in one flat cable design. The flat profile cables are also self-supporting in lengths up to nearly 3-feet, which also enabled the customer to eliminate the loud, space consuming, particulate generating and costly cable tracks.
As compared to the stiffer and bulkier cables supplied by the round cable manufacturers, Cicoil offered a durable, yet flexible cable that required less space than the round cables, incorporates ultra-fine conductor strands and reduced weight, while supplying unsurpassed electrical/signal attributes. Parallel conductors and Cicoil's proprietary Flexx-Sil™ Jacket provide for mechanical strength, superior flexibility with durability under continuous motion.
As a bonus to its unique cable solution, Cicoil was also able to provide fully terminated, plug & play assemblies, which are manufactured according to GMP's, IPC and J-Standards. All assemblies have full lot traceability and each step of the manufacturing process is documented, follows approved & controlled procedures and offers material certification / First Articles.
In addition, Cicoil's cables, contain no contaminants, extractables, leachables, latex or talc; met all of the customer's test requirements: bend radius, flex cycles, electrical, signal; and resistance to water, bleach, Isopropyl Alcohol, Hydrogen Peroxide, Steam (Autoclave), Radiation, UV light and many harsh sterilization disinfectants.
Cicoil's Cables are Halogen Free, Flame Retardant, Class One Clean Room Rated, RoHS & REACH Compliant and are cured continuously, with no debris or material contamination in an automated, climate controlled environment.
Cicoil has been a leader in designing and manufacturing high performance cable assemblies for over sixty years. The company's Patented Flexx-Sil™ Flat Cable Technology provides high flexibility, extremely long life, and they can withstand temperature extremes from -65 degrees to +260 degrees Celsius. Cicoil's flat cables are used in thousands of demanding applications; including aircraft fuel control cells, semiconductor automation, and the International Space Station. Cicoil designs and manufactures its Flexx-Sil™ jacketed cables and cable assemblies in an automated facility in Valencia, California. Cicoil's quality assurance system is certified to the ISO 9001 (AS9100) standard. Visit www.cicoil.com for more information, or call 661-295-1295 to speak to an application engineer.