Cicoil High Flex - High Voltage Wire for Extreme Environments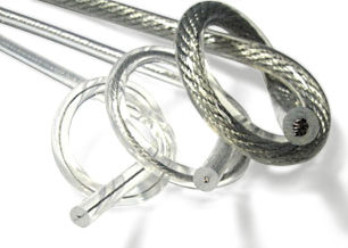 Rated for voltages up to 42,000 Volts DC, Cicoil's High Flex - High Voltage Flexx-Sil™ Wire is durable, flame retardant (UL 94V-0), free of halogens and performs exceptionally well in extreme temperature conditions (-65°C to +260°C). This combination of features makes Cicoil's ultra flexible Flexx-Sil™ wire the ideal choice for just about any application.
Cicoil's exclusive crystal-clear Flexx-Sil™ encapsulation is tear-resistant, needs no external "armor" or conduit for protection, and will not deform or wear during a lifetime of more than 10 million cycles, even under tight bending radius and high speed flexing conditions. Unlike most other types of wire, Cicoil's unique extruded wire is unaffected when exposed to extreme vibration, water, UV light, weld spark, ozone, radiation, mechanical abuse and most chemicals.
Cicoil's UL Recognized, RoHS Compliant & CE Conforming wire is manufactured in an automated, climate controlled environment, and exceeds the NASA 1124 outgassing specifications for space use and vacuum requirements. The wire is also 100% contaminant-free, as they are rated for Class 1 clean room use.
Standard "off the shelf" High Flex - High Voltage Wire (4 AWG to 30 AWG) is available from stock in continuous lengths, cut to order, or as assemblies, complete with lugs or connectors of your choice, 100% tested and inspected. In addition, Cicoil offers anti-friction, low smoke-zero halogen, custom colors and lower/higher voltage designs by request.
Cicoil has been a leader in designing and manufacturing high performance cable assemblies for over fifty years. The company's unique Flexx-Sil™ coated flat cables provide high flexibility, extremely long life, and they can withstand temperature extremes from -65 degrees to +260 degrees Celsius. Cicoil's flat cables are used in thousands of demanding applications; including aircraft fuel control cells, semiconductor automation, and the Space Shuttle. Cicoil designs and manufactures its Flexx-Sil™ cable and cable assemblies in an automated facility in Valencia, California. Cicoil's quality assurance system is certified to the ISO 9001 (AS9100) standard. Visit www.cicoil.com for more information, or call 661-295-1295 to speak to an application engineer.