The Flexible IDC Ribbon Cable Celebrates its 63rd Year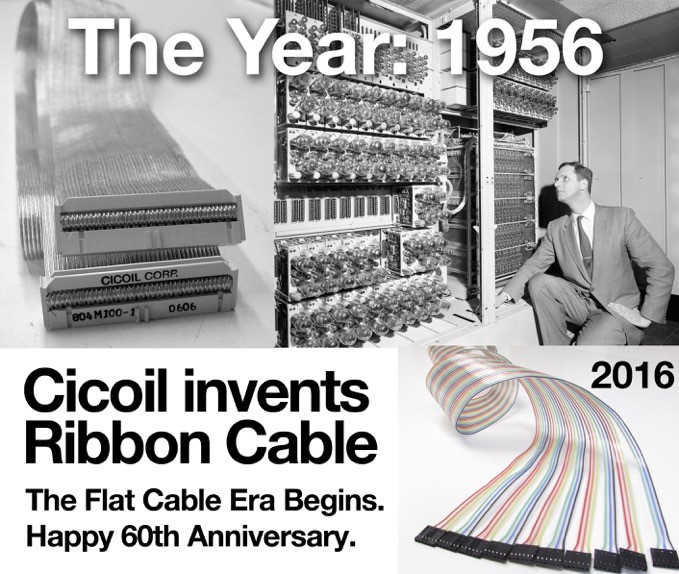 Valencia, CA; August 10, 2019: On August 30, Cicoil will celebrate the 63rd Anniversary of the invention of the IDC Ribbon Cable. The NEW Flat IDC Ribbon Cable product allowed companies like IBM, Sperry/Univac, Honeywell, GE and NCR to move forward and replace bulky, stiff round cables with sleek, flexible ribbon cables.
Due to advanced developments of mainframe computers, the need arose for a cable that could contain many wires within a single cable, provide flexibility in tight spaces and offer unparalleled reliability over long term operation. In 1955, finding such a cable was considered an impossibility, however Cicoil's Engineers figured out a way to encase individual wires within a flat profile design. After a year of development, the flexible flat IDC Cable was born and introduced to the world in 1956.
Cicoil's Ribbon cable is designed to work directly with standard Insulation Displacement Connectors (IDC). For this reason, it is often called IDC cable, and it is used frequently where simple flat cable signal connections are needed. The wire spacing and dimensions are standardized, with the wire 'pitch' (wire spacing) set at .050" for the English version, or 1mm for the metric version. Cicoil's ribbon cables are constructed using Ultra High Flex 28 AWG, bare copper wire, and feature the exclusive Cicoil Flexx-Sil rubber extrusion process for a strong, flexible, clear cable. All Cicoil ribbon cables meet the standard ribbon cable dimensions, and are completely compatible with any IDC connector.
For applications that require a reduced width design, Cicoil now offers a standard Micro IDC Ribbon Cable that features a .025" pitch. Approximately, half the size of standard 28 AWG IDC Ribbon Cables, the 30 AWG Flexx-Sil™ rubber jacketed cables offer twice the flexibility of stiff PVC and Teflon versions. All Cicoil IDC cables are available with up to 64 conductors and fully terminated assemblies are offered in 3 foot, 6 foot and 12 foot lengths.
Cicoil's halogen-free, low smoke and flame resistant IDC Ribbon Cable are UL Recognized, CE Conforming, RoHS & REACH Compliant, Class One Clean Room Rated and are cured continuously, with no debris or material contamination in an automated, climate controlled environment. In addition, the non-particulate generating cables exceed the outgassing requirements of ASTM E595 and are also excellent for use in vacuum environments. When a non-adhering jacket surface is desired, Cicoil offers its SlideRite™ and GlideRite™ low friction coating options by request.
The invention of the innovative flat cable design changed the world and forever changed the way people lived their lives. Sixty Three years later, we as consumers are thankful for our mobile devices, high speed laptops and all of the electronic products that positively affect our lives each and every day.
If you would like to learn how Cicoil developed the First IDC Ribbon Cable, helped put a Man on the Moon, and find out more about our Innovative Flat Cable Technology, please contact our office at 661-295-1295 to discuss your application or to set up an on-site visit to your location.
Cicoil has been a leader in designing and manufacturing high performance cable assemblies for over sixty years. The company's Patented Flexx-Sil™ Flat Cable Technology provides high flexibility, extremely long life, and they can withstand temperature extremes from -65 degrees to +260 degrees Celsius. Cicoil's flat cables are used in thousands of demanding applications; including aircraft fuel control cells, semiconductor automation, and the International Space Station. Cicoil designs and manufactures its Flexx-Sil™ jacketed cables and cable assemblies in an automated facility in Valencia, California. Cicoil's quality assurance system is certified to the ISO 9001 (AS9100) standard. Visit www.cicoil.com for more information, or call 661-295-1295 to speak to an application engineer.