New "Paperless" Flat Cable Brochure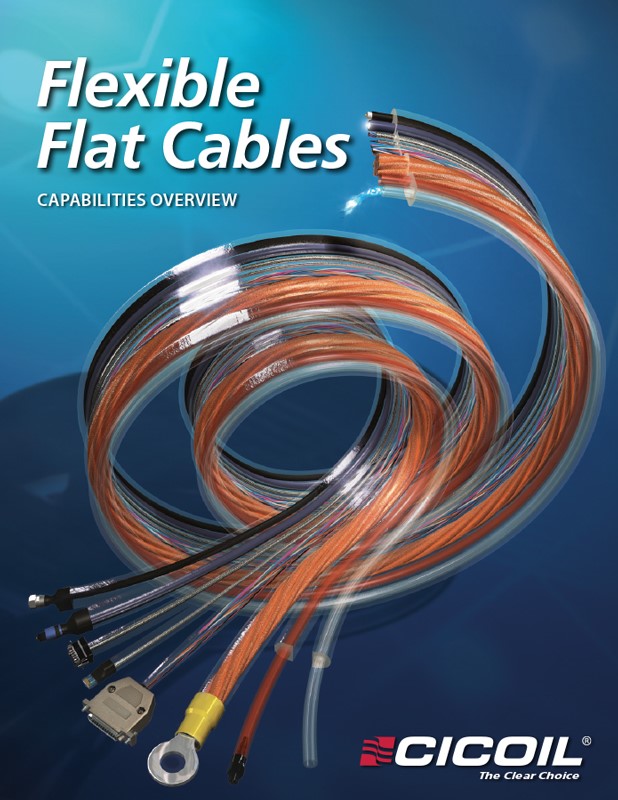 Valencia, CA; December 8, 2016:
Cicoil, the leading manufacturer of High Performance Flat Cables and Assemblies, is pleased to announce the release of its New Flexible Flat Cables Capabilities Brochure. Available in electronic format, the 8 page, full color overview guide offers an extensive selection of standard cables & assemblies, custom capabilities, Cable Configurator Design Tool, key applications and technical field sales support tools.
Located at
http://bit.ly/2gCNlAn
,
this "Paperless" Overview Brochure can be easily downloaded to a PC, laptop and mobile devices, such as Apple

and Android cell phones and tablets. Aside from being more convenient for customers, the digital brochure also saves paper, energy and the environment.
The innovative brochure offers a one page summary for Cicoil's enhanced Standard Product groups, including features & benefits, applications; cable assembly capabilities; and value added options:
·
Motion Control Cables
- Motion Series, Motion Series Plus, EZ-Flexx™ Motion Series Plus (Easy to separate & strip), Motor Power and Shielded Signal Cables
·
Video and Data Cables
- Cat 5e & Cat 6, Camera Link™ Controlled Impedance, USB 2.0 & 3.0, Flexible Coax, HDMI and Fire Wire Cables
·
Highly Flexible Unshielded Cables
- Continuous Flex Control & Power Cable, Hi-Temp IDC Ribbon, Hi-Temp Festoon, High Voltage Single Conductor and Thermocouple Cables
·
Cable Assemblies: "Specials are Standard at Cicoil"
which showcases unlimited connector options, custom shapes and formed cables
·
Value Added Options:
Space/Vacuum certification, Integrated tubing and molding
·
Low Friction Coatings:
When cables need to be stacked together, or where a lower friction surface is desired, there are two different cable finishes available: GlideRite™ and SlideRite™.
·
StripMount™ Integrated Mounting Strip:
design makes it quick and easy to mount cables to any surface
·
Online Cable Configurator
:

Located at
www.cicoil.com/flat-cable/configurator
,
an entire section of the website is also dedicated to this Free Web-Based Tool, which allows a user to easily design a cable in minutes and possibly seconds.
If you would like to learn more about our Innovative Flat Cable Technology and how Cicoil developed the First IDC Ribbon Cable, helped put a Man on the Moon, and designed the first Class 1 Clean Room Cable, please contact our office at 661-295-1295 to discuss your application or to set up an on-site visit to your location.
Cicoil has been a leader in designing and manufacturing high performance Flat Cable assemblies for more than sixty years. The company's Patented Flexx-Sil™ Flat Cable Technology provides high flexibility, extremely long life, and they can withstand temperature extremes from -65 degrees to +260 degrees Celsius. Cicoil's flat cables are used in thousands of demanding applications; including aircraft fuel control cells, semiconductor automation, and the Space Shuttle. Cicoil designs and manufactures its Flexx-Sil™ jacketed cables and cable assemblies in an automated facility in Valencia, California. Cicoil's quality assurance system is certified to the ISO 9001 (AS9100) standard. Visit
www.cicoil.com
for more information, or call
661-295-1295
to speak to an application engineer.