The Ultimate Flat Cable for a Round Cable World
Apply Any Cable Connector
Ultra Flexible
Easy to Use with Standard Tools
Flexibility Begins with the Wire
Cicoil's Ultra-Flex Wire
EZ‑Flexx uses multiple bundles of fine 40‑44 AWG base strands to form a supple cable wire designed for extreme, continuous flexibility.
Standard Wire
A standard 24 AWG wire is typically comprised of just 7, larger 32 AWG base strands. The result is a stiffer wire with larger bend radii and unsuitable for repeated flexing.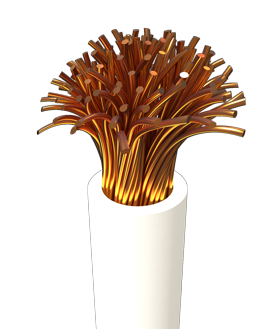 F

E

D

C

B

A
Cicoil's patented Flexx‑Sil

™

external jacket provides clear, durable, and extremely flexible encapsulation of each cable element.
The EZ‑Flexx jacket, used externally on wire elements, is a fluoropolymer material that provides creep resistance, and thermal stability close to or exceeding PTFE. EZ‑Flexx jacketing is color coded, and visible through the Flexx‑Sil jacket, to provide a quick visual guide of wire gauge sizes within the finished cable.
Conductors are RFI/EMI shielded for clear signal and data transmission.
Individual conductors are jacketed in EZ‑Flexx fluoropolymer.
Ultra-flexible wire bundles spun from 40‑44 AWG base strands.
Multiple sizes of Teflon

®

or Polyurethane tubing are easily integrated into EZ‑Flexx cable for extended functionality.
And Did We Mention?
EZ‑Flexx Cables Are...
Very...
Very Flexible.
Easy to Work With
Elements Are Round
EZ‑Flexx cable elements and external Flexx‑Sil jacket all present a round profile to match the stripping tools you commonly use. Jacketing materials cut precisely and smoothly slide off. Work with EZ‑Flexx cable as easily and simply as with any other wire product.
Elements are Easily Separated
The clear Flexx‑Sil external jacket binds power, signal and tubing elements into a single flat cable while allowing individual elements, or groups of elements, to be separated for dedicated uses such as terminating with unique connectors.

Back to Top
EZ‑Flexx
™

Features Amazing Flexx‑Sil

™

Encapsulation
Extruded Seamlessly Around Each Cable Element with Our Patented Process.
Superb Durability
For the conductor elements it encapsulates, Flexx‑Sil™ provides protection against sudden impact, severe vibration, and extreme G‑forces. Flexx‑Sil is tear resistant, does not require conduit for protection, and is self-healing from small punctures. It doesn't wear, crack or deform when exposed tight bending, continuous flexing or operational stress. Flexx‑Sil registers a Durometer value of 65 (Shore A). Our SuperTuff version goes up to 85 (ShoreA).
Temperature Extreme
From the chill of space to the hottest places on Earth, Flexx‑Sil maintains flexibility and operation integrity in extreme temperatures ranging from -65°C to +260°C (-85°F to 500°F).
Clean Room Rated
Flexx‑Sil features long term integrity, with near zero particulates, making EZ‑Flexx Cables Class 1 Clean Room rated.
Low Outgassing & Impurities
Our Flexx‑Sil formulation features a strong molecular bond. Pairing Flexx‑Sil with our patented extrusion process results in virtually zero impurities — And is 100% Halogen-free.
Harsh Environment Resistant
Flexx‑Sil is waterproof (including immersion); resistant to most chemicals; and operates for years in intense UV and sunlight conditions.